Types of Damages in New York Personal Injury Cases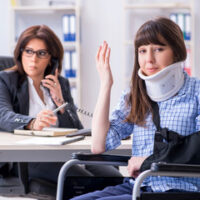 Property and business owners have a duty to provide a safe environment for people on their premises, and car drivers have a duty to drive with reasonable care. When people or businesses violate these duties through negligent behavior or misconduct and an accident or injury occurs, they are liable to the accident victim for the harm done. In the American legal system, negligent actors are liable to their victims for monetary compensation, known in the legal world as "damages." The discussion below talks about just what types of damages are recoverable in a New York personal injury case.
If you have sustained injuries in a car crash or a trip and fall, you are likely entitled to monetary compensation, or "damages," proportionate to the amount of harm inflicted. The amount of damages can vary greatly depending on the circumstances of the accident and the extent of your injuries. How much you can recover depends on these factors along with how well your personal injury attorney can negotiate a settlement or litigate your case in court if necessary.
Types of Damages in a Personal Injury Case
Damage types in Personal injury cases usually involve a mix of "economic" and "noneconomic".   Economic damages include things that can be tied to a specific number, such as:
Medical bills, including the anticipated cost of future treatment
Lost income, past and future
Property damage
Economic damages must be tied to actual estimations of how much the accident will cost the plaintiff, and the more specific a plaintiff can get, the more likely they are to recover that amount.
Noneconomic damages include harder to define elements, but they often make up the bulk of a personal injury award:
Pain and suffering
Emotional distress
Loss of enjoyment of life
Scarring or permanent loss of limb
Factors That Affect the Amount of Damages
The amount that a jury may award you after a trial, or that the defendants and insurance companies will agree to pay in a settlement, will depend on a variety of factors. These factors include the severity of the injury caused, the anticipated length of recovery, the conduct of the party responsible for the injury, and insurance coverage.
The more permanent and problematic a plaintiff's injury, the higher the recovery may be. Loss of limb, death, permanent scarring, persistent pain caused by nerve damage, inability to enjoy life normally, and mental anguish following a particularly devastating injury can all lead to a higher recovery amount. For serious injuries, recovery can range from several hundred thousand dollars into the low millions.
Punitive damages
Damages are not available in every case, and they depend on the conduct of the responsible party. Punitive damages are intended to punish the person who harmed you as a way of deterring future people from behaving as they did. As a result, whether punitive damages are appropriate will depend on whether the person who injured you was acting intentionally dangerously or extremely recklessly, such as by driving under the influence of alcohol or drugs or intentionally creating a tripping hazard or other danger. Juries can double or triple damage awards if a defendant's conduct was particularly egregious.
No Damage Caps in New York for Personal Injury Cases
Many states have caps on the total amount of damages a jury may award a plaintiff for noneconomic damages. New York does not have such a damage cap for personal injury cases. As a result, jury verdicts in New York can vary wildly, but no award is by default too large by law.
If you've been injured and have any queries regarding the types of damages in a personal injury case, get the legal support you need to seek the damages you deserve by contacting New York lawyer, Leandros A. Vrionedes for a free consultation at 212-889-9362, or in Queens at 718-777-5895.