Understanding Elevator Injuries and Accident Claims in New York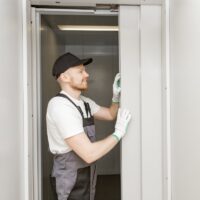 Elevators are a convenience and, quite often, a necessity for daily life and work. When elevators are negligently manufactured, installed or maintained, however, serious injury can result. Read on for a discussion of elevator accident injury claims, and call a dedicated New York elevator accident lawyer if you or someone you care about has been injured by a faulty elevator in New York City.
Who is Liable For an Elevator Injury?
When an elevator malfunctions and someone gets hurt, some person or entity is responsible. A properly functioning elevator will not stall unexpectedly, free fall, trap individuals within, or otherwise cause injury. Liability for an elevator injury depends on the cause of the accident.
If the elevator was designed or manufactured defectively, the elevator manufacturer may be to blame. If the elevator was installed incorrectly, then the general contractor or real estate developer might be liable. If the fault with the elevator resulted from a lack of maintenance, lack of regular inspections, or improper usage of the elevator (such as permitting more people than the manufacturer's recommended maximum), then the building owner or operator might be held responsible.
A seasoned elevator injury lawyer can investigate the circumstances of an elevator injury and identify the appropriate party to hold responsible.
Common Elevator Injuries
Elevator injuries can occur for a variety of reasons and in a variety of ways. The most common events leading to elevator injury include the following:
Door strikes. The most common elevator injury occurs when elevator doors malfunction and close while someone is entering or exiting the elevator. Elevator sensors are meant to prevent this sort of incident, but they could malfunction if the elevator is defective or in disrepair.
Leveling. A leveling injury occurs when a person trips over the elevator or hallway floor because the elevator was not level with the floor. Elevators are meant to be calibrated to stop so that the elevator floor and the building floor are level; when the elevator is not well-maintained, the leveling can fall out of alignment, creating a tripping hazard.
Entrapment. Entrapment occurs when an elevator gets stuck and individuals are trapped inside. Buildings with elevators are required to have evacuation plans to get folks out of stopped elevators, even between floors. When buildings do not have a proper plan or the building staff is inadequately trained, people can become trapped for extended periods or can be injured in the evacuation process. One of the most common fatal accidents with elevators occurs when a person tries to get out of an elevator shaft from a stalled elevator and falls backward into the hoistway.
Collapse. Although elevator collapse is the most common image most people conjure when they think of elevator injury, in reality, they are less common than other types of elevator accidents. Nevertheless, when an elevator collapses, falling to the ground floor at a rapid speed, serious injury can result.
If you or a loved one has been injured by a defective elevator in a New York building, get help seeking damages from an experienced professional by contacting NYC premises liability lawyer Leandros A. Vrionedes for a free consultation at 212-889-9362, or in Queens at 718-777-5895.