Construction Accidents and NY Labor Law Section 241(6)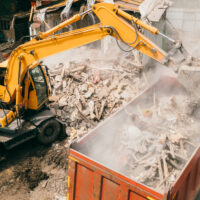 We previously discussed New York Labor Law Section 240, a special law designed to protect construction workers who are injured in scaffolding or ladder accidents. Section 240's "Scaffold Law" is one of a series of rules affording special protections for construction workers. Labor Law Section 241(6) sets certain standards for construction area safety, placing certain duties on general contractors and property owners. Construction workers who are injured due to safety violations may have a claim under the statute for damages. Continue reading to learn about Section 241(6), and call a knowledgeable NYC construction accident attorney if you or a loved one has been injured or killed in a New York City construction accident.
What is Labor Law Section 241(6)?
Labor Law Section 241(6) imposes certain duties on property owners and contractors regarding the safety of construction sites. These duties are non-delegable, meaning the buck always stops with the contractor or property owner, even if subcontractors are performing work in the area.
Pursuant to Section 241(6):
All areas in which construction, excavation or demolition work is being performed shall be so constructed, shored, equipped, guarded, arranged, operated and conducted as to provide reasonable and adequate protection and safety to the persons employed therein or lawfully frequenting such places.
Section 241(6) dictates that areas in which construction, excavation, or demolition work is being performed must be afforded proper safety precautions. The specific safety procedures required are laid out in Part 23 of Title 12 of the New York Codes, Rules and Regulations (NYCRR). There are sections dedicated to each type of work, covering safety devices, practices, equipment, and other measures. The rules can get incredibly specific, such as specifying a minimum or maximum height for guardrails and other safety apparatus.
Liability Under Section 241(6)
The purpose of Section 241(6) is to establish that property owners and contractors are responsible for the safety of construction workers. If a construction worker is injured in an accident that occurred due to the contractor or owner's negligence, or in any accident caused by a violation of a listed safety rule, the worker can sue the property owner or contractor for damages. The worker need not establish the owner or contractor was negligent; it's enough to demonstrate that there was a safety rule violation and that the violation caused the worker's injuries.
Who is Covered by Labor Law Section 241(6)?
Labor Law Section 241(6) applies to workers performing construction, excavation, or demolition work. "Construction work" is defined at 12 NYCRR 23-1.4(b), which states that construction work includes "[a]ll work of the types performed in the construction, erection, alteration, repair, maintenance, painting or moving of buildings or other structures." The law lists a few, non-exhaustive examples for the purposes of illustration, including "excavating, trenching, pipe and conduit laying, road and bridge construction, concreting, cleaning of the exterior surfaces including windows of any building." "Demolition work" means "work incidental to or associated with the total or partial dismantling or razing of a building or other structure," while "excavation work" includes "[t]he removal of earth, rock or other material in connection with construction or demolition operations."
Employees who are not engaged in construction, demolition, or excavation work as defined by the statute are not afforded the protections of Section 241(6).
Seasoned Advice and Dedicated Representation for Your New York Construction Accident Claim
Construction workers deserve to have their health and their rights protected. If you or someone you care about has been hurt on a construction site in New York City, find out if you're entitled to money damages for your injuries by contacting the experienced and successful New York construction injury lawyer Leandros A. Vrionedes for a free consultation at 212-889-9362 or 718-777-5895.