Construction Accidents and NY Labor Law Section 240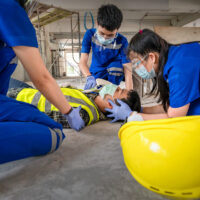 Construction workers face significant risks every day on the job. In 2019 alone, 1,061 construction workers were killed on the job, representing 20 percent of all work-related fatalities that year. New York law reflects the fact that construction workers face unique risks. Section 240 of the New York Labor Law, known as the "scaffold law," gives additional legal rights to construction workers and others who work on elevated spaces. Continue reading to learn about New York Labor Law Section 240 and the special protections afforded to construction workers in the state. Call a dedicated NYC construction accident attorney if you or a loved one has been injured or killed in a New York City construction accident.
Labor Law Section 240: The Scaffold Law
Labor Law Section 240 is a special law pertaining to the construction industry. The law is very wordy as written, but in essence the law protects workers who have a fall "from height" or who are struck by a falling object. The law applies to workers who are raised up on scaffolding, ladders, or other supports while working on an elevated surface. The law covers construction work as well as demolition, repairs, alterations, painting, and cleaning.
The law imposes on owners and general contractors the responsibility to ensure that scaffolding and other apparatus used in elevated work are equipped with proper safety measures. If a worker suffers a height-related injury (typically from falling or being struck by a falling object), the building owner and general contractor are automatically liable for the worker's resulting injuries. The injured worker need not show that the building owner was negligent or that the worker did not contribute to the accident by their own negligence. So long as the elevated workspace lacked the appropriate safety equipment and the worker was injured in a height-related accident, the owner or general contractor is liable.
Why Does Section 240 Matter?
Section 240 helps injured construction workers recover after construction-related injuries. It imposes additional duties on general contractors and building owners, creating the chance for additional claims not otherwise available in a workplace injury environment. Whereas most employees are limited to workers' compensation benefits after a workplace accident (which does not include much of the possible compensation available in a personal injury suit), workers covered by Section 240 have a much easier path to a third-party lawsuit.
If you are a subcontractor, for example, and you were injured on a scaffold that lacked the property safety apparatus, you have a claim against the general contractor and/or the site owner (although compensation from your employer is still limited to workers' comp). You have claims against these parties even if your accident was primarily the fault of your employee or coworker. The law ensures that the "buck stops" with the general contractor and site owner.
Trusted Advice and Zealous Representation for Your New York Construction Accident Claim
Construction workers deserve to have their health and their rights protected. If you or someone you care about has been hurt on a construction site in New York City, find out if you're entitled to money damages for your injuries by contacting the zealous and skilled New York construction injury lawyer Leandros A. Vrionedes for a free consultation at 212-889-9362 or 718-777-5895.