Fatal Fall in Manhattan Apartment Building Stairwell Ruled Accidental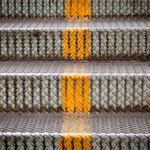 The death of a young woman in a Manhattan apartment building earlier this week has been ruled accidental. Carlisle Brigham, 29, was found bleeding from her neck in a stairwell of an apartment building on Manhattan's Lower East Side. Her death was apparently caused by a fall down the marble stairs. This story has been reported in the New York Times and the Wall Street Journal online, quoting an Associated Press release.
Our hearts go out to the family, and we offer them our sympathy as they grieve for the loss of a loved family member. Sometimes accidents simply happen, and there is no one to blame. Other times, however, a slip and fall is caused by a dangerous condition which was not remedied in a timely fashion by the property owner. An accident that could have been prevented which results in serious personal injury or wrongful death is truly tragic, and the law responds by holding the property liable for the legal damages caused.
Stairs and stairwells can be particularly dangerous parts of the premises, because of the potential for serious injury or death from a fall. Common problems with stairways giving rise to premises liability claims include missing or broken handrails, chipped or broken steps, and wet or slippery steps. Property owners and managers have a duty to periodically inspect their premises and either repair any damage in a timely manner or post a warning about the hazard.
In addition to premises liability concerns about a slip and fall accident, property owners must also take care to avoid liability for negligent security claims. Unlit or dimly-lit stairwells not only make for a tripping hazard but also invite criminal assaults by providing places for attackers to hide. Adequate lighting, cameras, alarms and sensors, and secured doorways are all facets of providing adequate security in stairwells, parking garages and other structures. What security measures need to be taken in a given area, including personnel such as security guards or doormen, depend upon a host of factors, including the crime rate in the area and whether any suspicious activity has been reported.
New York City attorney Leandros Vrionedes fights for the rights of people who have been injured or lost a loved one due to the negligent or wrongful conduct of another. If you or a loved one has suffered a personal injury or wrongful death, we welcome you to contact our office for a free consultation.