Why is This State Different from Other States? New York is odd man out when it comes to medical malpractice law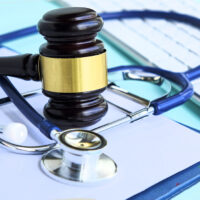 In most New York personal injury cases, there is a three-year statute of limitations, meaning that you have three years from the date of the accident to file a lawsuit. If you miss that deadline, you can be prohibited from suing. In medical malpractice cases, however, the statute of limitations is only 2 and a half years (CPLR 214a). This shortened time frame makes it more difficult for persons injured by medical negligence to recover compensation. Medical malpractice plaintiffs face other difficulties as well, some of which are unique, or practically so, to New York law.
New York Statute of Limitations Runs from the Date of the Injury
New York does have a "date of discovery" rule, but it is limited to cases where a foreign object is left in the patient following surgery or some other medical procedure. Unfortunately, other medical mistakes occur that are not always known about by the patient at the time they occur. Take the case of Lavern Wilkinson. She had a chest x-ray in 2010 that revealed she had a nodule in her lung, but the doctors neglected to inform her of it. She did not learn about the negative scan until two years later, when she learned she had terminal lung cancer that would have been curable two years earlier. The time for initiating a lawsuit, though, had already passed. She died in March, leaving behind a teenage daughter with special needs.
Only six states have this harsh "date of injury" rule. A bill sponsored by Assemblywoman Helene Weinstein (D-Brooklyn) would have changed the statute of limitations rule to "date of discovery." The bill probably had enough votes to pass the Assembly but not the Senate; even though 30 senators appeared to be on board, the Senate Majority Coalition Leader was not. Assemblywoman Weinstein may be able to press the legislation again next year with more success.
New York, Children Have Ten Years from the Date of Injury to Bring Suit
New York Civil Practice Law and Rules section 208 (CPRL 208) gives rules for extending the statute of limitations in cases where the injured person was under a legal disability and not able to sue by reason of insanity or infancy, which just means being a legal minor and not an actual infant. In most types of cases, the person has until the age of majority is reached or even up to three years after, but in the case of medical, dental or podiatric malpractice, the statute of limitations cannot extend more than ten years after the date of injury. If for some reason the parents do not sue in time, the injured person may have no recourse as an adult if the malpractice occurred when he or she was ten years old or younger.