Who Is Liable For a Trip and Fall in NY?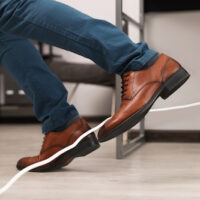 A trip and fall accident can be painful, debilitating, and dangerous. Trip and fall accidents often lead to head trauma, broken bones, neck injury, broken noses and eye sockets, and other serious injuries. If you trip and fall in New York, who is liable for your medical bills, property damage, and other costs? Read on to learn about liability for trip and fall incidents in New York, and call a seasoned NYC trip and fall attorney at the law office of Leandros A. Vrionedes, P.C. for help recovering compensation after a trip and fall, slip and fall, or any other type of accident.
Premises Liability and Trip and Fall Cases
Property owners and operators have a responsibility to customers, visitors, and other guests to keep their premises safe for reasonable use. If you are visiting someone else's property–for example, if you are browsing a grocery store or a department store–you have the right to be safe from unreasonable hazards. If you trip over a dangerous hazard, fall, and suffer injury, you have the right to hold that property owner or operator responsible.
The owner/operator of the property is liable for your trip and fall injuries if you tripped due to a hazard the owner either knew about or should have known about. If the owner created the hazard–such as if you tripped over a discarded, hard-to-see piece of construction equipment–then they are liable for your injuries.
If someone or something else created the hazard, then liability turns on whether a reasonable person in the owner's situation would have discovered and remedied the situation. If the hazard was created mere minutes earlier, then perhaps it's unreasonable to assume the owner should have discovered and fixed the problem. If the hazard was present for a longer time before you were injured, however, then the owner likely should have discovered the hazard and either fixed the problem or given adequate warning, such as a clearly visible caution sign.
Hazards that can give rise to trip and fall liability can include, for example:
● Uneven flooring
● Uneven steps and staircases
● Broken staircases
● Unsecured flooring (such as loose carpeting)
● Discarded equipment or materials
● Loose or exposed wires
● Broken escalators
● Mis-leveled elevators
● Inadequate lighting, such as in stairwells or hallways
● Cracked flooring
Special Rules for Sidewalk Trip and Fall Claims
If you trip and fall on someone else's property, that property owner or lessee can be held liable for your injuries. What happens if you fall outside, having tripped over a defect such as a cracked sidewalk, a pothole, an uneven sidewalk, a broken sidewalk, or other sidewalk hazards? In New York, special rules apply.
Under most circumstances, the responsibility for maintaining sidewalks in a safe condition is allocated to the owner/operator of the property that abuts the sidewalk. If you trip over uneven pavement outside of a grocery store, for example, that grocery store owner would be liable for any injuries and other damages you incurred. They should have kept the sidewalk in a safe condition.
Under certain circumstances, however, the city or state will be responsible. If the sidewalk abuts a city property, or it's otherwise on city or state-owned land rather than abutting a privately-owned commercial building, then the city or state is liable. Additionally, New York City has chosen to take responsibility for sidewalks abutting owner-occupied residences of one-, two-, and three-family homes. If you trip over a cracked sidewalk outside a single home or a duplex, then you should look to the city to collect damages for the harm you have suffered. One exception to this rule is if the homeowner made a repair to the defect and did it improperly or caused it to become worse off than before. In that case, the homeowner would be liable to the trip and fall victim instead of the city.
Make sure you talk to an experienced trip and fall attorney who understands the law and knows how to hold the proper parties responsible. Call a qualified premises liability lawyer soon after your accident to ensure you do not lose out on your rights. Claims against the city, for example, require additional steps and have shorter time limits that could cause you to lose the right to sue entirely.
Stellar Advice and Representation for Your New York Trip and Fall Case
If you or someone you care about has been seriously hurt in a New York City trip and fall, slip and fall, or another incident on someone else's property, find out if you're entitled to monetary damages for your injuries by contacting the experienced, comprehensive New York premises liability lawyer Leandros A. Vrionedes for a free consultation at 212-889-9362.