What Is Considered a Serious Car Accident?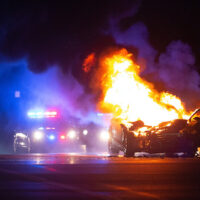 If you've been hurt in an automobile accident in New York, you can get a portion of your medical bills paid for through your no-fault car insurance policy. New York is one of 13 states with no-fault car insurance. This means that it does not matter who was at fault for the accident; the no-fault insurance company that covers your vehicle will pay for medical bills and even a percentage of lost wages after an accident.
In some instances, you may be able to obtain additional compensation for your injuries, including for your and pain and suffering and other losses. In order to go above the compensation paid out by your no-fault insurance for your medical bills and other losses, your case needs to meet one of the two conditions:
You must be able to show the accident resulted in a serious injury
You sustained economic losses that go beyond basic economic loss. This is typically losses over $50,000 in combined lost wages and medical bills.
Injuries following a car accident can arise for a number of reasons. While New York does not define what a serious car accident is, they do have a strict set of guidelines for defining a serious injury, as discussed below. Serious injuries can happen in any type of collision, although they are likely to often occur from serious car accidents such as the following:
A car crash involving a semi-truck
Multi-vehicle pileup
Car accidents where the driver or passengers are ejected from a vehicle
Property damage exceeding $500
What Is a Serious Injury?
At face value, it might seem easy to point out what a serious injury is. After all, wouldn't you know a serious injury if you saw one?
According to New York law, however, for an injury to be considered a serious injury, it must adhere to a strict set of rules. It's important to understand if an injury is considered serious or not as this will affect insurance payout. Your insurance must pay for your medical damages if your injury is not considered a serious one. If it is serious, you could have other rights for compensation beyond the limits of your no-fault policy.
New York Serious Injury Threshold
The threshold for a serious injury in New York is well-defined. According to New York State Insurance Law §5102(d), if you have suffered the following after an injury, you are able to claim a serious injury:
Death
Dismemberment
Significant disfigurement
Fracture
Loss of a fetus
Permanent loss of use of a body organ, member, function, or system
Permanent consequential limitation of a body organ or member
A significant limitation of the use of a body function or system
Any non-permanent injury that keeps you from engaging in your daily tasks for 90 days or more in the first six months after the accident.
Even with these defined guidelines, it can still be tricky to understand whether or not your injury constitutes a serious injury. For example, determining If an injury constitutes a significant disfigurement can be rather subjective. However, courts generally regard significant disfigurement as any injury that is "unattractive, objectionable or the subject of pity or scorn." Litigation often becomes necessary when the insurance company disputes that a serious injury occurred.
Filing a Personal Injury Lawsuit Following a Serious Injury
If you did suffer a serious injury as defined in the law, you may be able to step outside the no-fault system and sue the at-fault driver for all your damages, including pain and suffering via a personal injury lawsuit. In order to do this, however, you must be able to prove that the driver was negligent. The following must be true when determining negligence and filing a personal injury lawsuit in New York:
The other driver owed you a standard of care. Essentially, the other driver is responsible for providing a basic level of care to other motorists and pedestrians that is similarly expected of other motorists.
The other driver violated this duty of care. This is called negligence.
The other driver's negligence was the cause of the accident and in turn, your injury.
You can claim damages
The injuries sustained because of the other driver's negligence are deemed serious injuries.
Outside of the 13 States including New York where there are no-fault rules, personal injury lawsuits only require that you show a defendant's negligence and their negligence caused your injury. New York, however, requires that plaintiffs also prove that the defendant caused them an injury that surpasses the serious injury threshold.
Exceptions to the Serious Injury Threshold
If you are involved in a motorcycle accident, then your injuries are not covered by the state's no-fault law or serious injury threshold. In this case, you could sue an at-fault party for damages related to your injury such as:
Medical bills
Lost wages
Emotional distress
Pain and suffering
Talk to a New York Car Accident Attorney Today
If you suffered a serious injury following a car accident, it's important to have legal representation you can count on. Speaking with a New York City accident attorney can help you determine whether your injuries meet the serious injury threshold. If they do, an experienced attorney can help you navigate a personal injury lawsuit so that you receive the compensation you deserve. Contact the law offices of Leandros A. Vrionedes P.C. today to schedule a consultation on your case.