Vehicle Rollover Accident Causes Serious Injuries, Death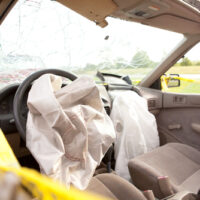 In a horrific car crash on the Van Wyck July 29, two children and three adults were killed, and three others injured, when the 2008 Mercedes Benz SUV they were traveling in slammed into a concrete pillar or pole, flipped over several times, and then caught fire. While speed was likely the main factor contributing to this single-car collision, the extreme nature of this catastrophe serves as a reminder of the serous dangers of a rollover type of accident.
SUVs, as well as vans and pickup trucks, have gone through an incredible growth spurt in recent years, becoming bigger and taller and dominating the road like never before. This top-heavy trend raises their center of gravity, and when combined with the narrow wheel base found on many of these vehicles, the propensity to rollover in a crash, tire failure or sharp turn is greatly enhanced.
Automotive braking technologies such as Electronic Stability Control (ESC) are thought to help prevent a rollover type of accident. ESC is a stability enhancement system incorporating both antilock brake systems (ABS) and traction control systems technologies. A preliminary analysis performed by the U.S. Department of Transportation National Highway Traffic Safety Administration in 2004 found that ESC reduced single car crashes by 35% in passenger vehicles and a whopping 67% in SUVs. Unfortunately, this technology is far from being universally adopted, and only about half of the vehicles sold in the United States include ESC as an option, even though the cost to the manufacturer is only about $100 per vehicle. It should be noted that ESC has been standard on most Mercedes Benz SUV models since 2000, and this technology cannot of course prevent a rollover in every instance.
Sometimes accidents happen despite our best efforts to prevent them, and issues of driver negligence or recklessness must be investigated alongside questions of a possible vehicle design defect to determine what factor or factors caused or contributed to an accident. An experienced personal injury trial attorney knows the steps to take to investigate an accident and do the research to determine where the fault lies and take steps to ensure the same type of accident doesn't happen again to others. Contact Leandros A. Vrionedes, P.C. in New York City if you or a loved one were involved in a serious car accident. Mr. Vrionedes offers a free initial consultation to find out what happened and discuss with you your rights to compensation.