Types of Elbow Injuries in Auto Accidents and Slips/Trips and Falls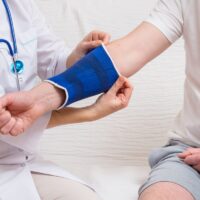 Elbow injuries are as common as they are debilitating. Whenever we fall, especially after a slip and fall or trip and fall, we tend (or try) to catch ourselves on our hands. Landing on your hands puts extreme pressure on your hands, wrists, shoulders, and elbows, creating a high likelihood of injury to one or more of those body parts. Elbow injuries can be especially painful and they tend to require long recovery times, causing significant limitations to work and leisure activities in the meantime. If you've suffered an elbow injury in a car accident, a slip and fall, a workplace accident, or through some other means, you could be in for a lengthy, expensive, and painful recovery process. Read on to learn about elbow injuries common to personal injury matters, and call an experienced NYC personal injury attorney if you or someone you care about has been hurt by someone else's negligence in New York City.
Traumatic/Acute Hard Tissue Elbow Injuries
Many elbow injuries occur when there is a sudden traumatic event. Elbow injuries can result from an event involving a direct blow to the elbow or hands, or anything that causes the arm to twist, jerk, jam, or bend abnormally. The elbows are important, but they are also fragile. Pain is often sudden and severe, and recovery can be difficult.
Dislocations. A dislocation occurs when an accident victim incurs damage to the elbow joint, or whenever one of the bones that forms the elbow otherwise gets knocked out of place. Dislocation most frequently occurs when someone falls over forward and catches themselves on their hands during the fall. Dislocation can also occur whenever the elbow is subject to a sudden twist, jerk, or abnormal bending.
Fractures. Fractures refer to cracks or breaks in the bones. If one of your arms breaks at the elbow, you have an elbow fracture. Elbow fractures most commonly occur as a result of a sudden blow, such as an elbow hitting the street in a pedestrian or bike accident, or during contact sports. Notably, you may still be able to move your elbow even after suffering a fracture, increasing the risk of exacerbating the problem unwittingly.
Stress Fracture. A stress fracture is a small crack in the bone, typically created and aggravated over time. Unlike standard fractures which typically arise after traumatic impact, stress fractures develop from overuse. Stress fractures are more common in the knees, lower legs, and feet, but people who engage in frequent strenuous activity with their elbows can get stress fractures in the elbow as well.
Treating Elbow Injuries
Treating elbow injuries depends on the location and severity of the injury. Depending on the specifics, the injury may require a brace, splint, or cast; physical therapy; medicines; or surgery. Treatment types and the length of recovery depend upon a number of factors including the severity of the injury, the type of injury, the precise location of the injury, the hobbies and work of the patient, as well as other patient-related factors including age and health conditions.
Trusted Advice and Representation for Your New York Personal Injury Claim
If you or someone you care about has been hurt through someone else's negligence in New York City, find out if you're entitled to money damages for your injuries by contacting the passionate and effective New York personal injury lawyer Leandros A. Vrionedes for a free consultation at 212-889-9362 or 718-777-5895.00