Trial Begins in First Fatal Citi Bike Crash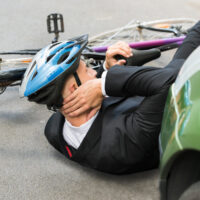 Last June, a cyclist riding a Citi Bike was fatally struck by a bus, becoming the first Citi Bike rider to have a fatal accident since the bike-share program was rolled out in New York City in 2013. The bus driver was criminally charged for the accident but refused to admit fault. His trial recently began, and a verdict is expected by the first week of October. Continue reading for more about the accident and the case, and contact a seasoned Manhattan bicycle and auto injury attorney if you've been injured in an accident.
Bus runs down cyclist in midtown Manhattan
In June 2017 a commuter bus driver was heading west on 26th Street near Eighth Avenue when he spotted a cyclist driving in the middle of the road. He honked at the cyclist, who was wearing headphones, and continued driving; the cyclist did get out of the way. The 36-year-old cyclist and father of two was then sandwiched between the bus and a parked car before rolling under the rear wheels of the bus. He was taken to a nearby hospital where he was pronounced dead.
The case: Was it the bus driver's fault?
The bus driver was charged with a misdemeanor for failing to observe right of way and a violation for failure to exercise due care. Both charges imply the driver's negligence, suggesting the accident was his fault, essentially for failing to slow down as he passed the cyclist. The driver claims he was exercising due care. The street did not have a bike lane. The cyclist was wearing headphones and no helmet. And, contrary to the initial reports claiming that the biker swerved, a video of the accident released during the course of the trial shows that he did not.
If found guilty the driver could face up to 30 days in jail. Cycling advocates claim a guilty verdict would also send a message to motorists about the dangers of speeding up when they see a cyclist. Advocates also called for more serious charges against the bus driver. The driver, in contrast, refused a plea deal that would have included no jail time, instead maintaining that he was neither negligent nor reckless and that the accident was not his fault. Whether he is found criminally liable can affect whether he or the city is open to a wrongful death civil lawsuit based on the accident.
A verdict is expected as early as October 1.
Contact an auto accident lawyer
If you or a loved one has been injured in a New York auto accident, get help seeking damages from a seasoned professional by contacting Manhattan injury accident lawyer Leandros A. Vrionedes for a free consultation at 212-889-9362, or in Queens at 718-777-5895.