Tragic Bronx Apartment Fire Highlights Necessity for Fire Safety in Multiple Dwellings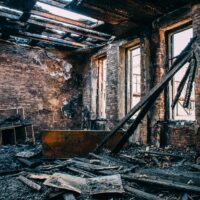 A deadly fire broke out yesterday morning in a duplex apartment building located at 337 East 181st Street in The Bronx. The fire which started in a third-floor bedroom spilled out into the hallway, but heavy smoke from the blaze reached every floor of the 19-story building, hampering escape and leaving victims of smoke inhalation on every floor suffering from cardiac and respiratory arrest. As of this writing, 60 people have been injured and 17 people, including eight children, have died from the blaze, although the death toll is expected to rise in the coming days.
New York Requires Apartment Building Owners to Keep and Maintain Self-Closing Doors for Fire Safety
The fire is thought to have been started by a space heater in the bedroom that may have been running continuously for several days to combat the frigid temperatures currently gripping the city. The residents of the dwelling left the door open as they fled the apartment, which not only allowed the fire to spread but also helped fuel it by providing ready access to oxygen. Fires cannot burn without oxygen, so one of the most effective methods of containing a fire is to keep the doors and windows closed in the room where the fire started, and to close the exit door or window when fleeing the apartment unit.
One key to preventing smoke and fires from spreading throughout an apartment building is to ensure all hallway and stairwell doors are self-closing. This simple act can help prevent a fire's spread, and it's not just a good idea; it's required by law.
New York City law requires residential apartment building owners to make sure all hallway and stairwell doors are self-closing. Landlords must additionally keep and maintain those doors in good repair. A lack of properly maintained self-closing doors is classified as an immediate hazard under NYC law, and landlords can be cited by the City for failing to keep and maintain self-closing doors as required by law.
Residents who are injured or who lose a loved one in a fatal accident caused by a landlord's failure to follow required safety laws can bring injury claims against the landlord or building owner and recover significant money damages with the help of an experienced New York personal injury attorney. Civil lawsuits are often the only way injury victims can obtain compensation for the harm done to them, and they are also key to holding negligent landlords accountable for the damage their negligence has caused.
Open doors have been responsible for other terrible apartment fires spreading beyond their source and causing needless devastation, including another fire in The Bronx which took the lives of 13 people in 2017. That fire had been New York City's deadliest fire in almost three decades, although it has sadly now been eclipsed in scale by Sunday morning's tragedy.
Our hearts go out to the victims and families of yesterday's blaze, and as we grieve and mourn with the rest of the city, we stand together with all New York City apartment dwellers who demand the right to live in buildings maintained with necessary fire safety features such as self-closing doors, smoke alarms, sprinklers, fire escapes, or other basic measures required by law or common sense.