Surprise Construction Site Inspections Find Over 11,000 Safety Violations in NYC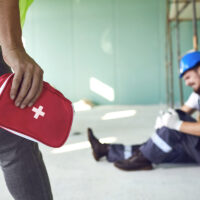 Constant construction is a way of life in New York City. There are always new office buildings, new roadways, new museums, and new apartment complexes being built or renovated all over the city. With construction, unfortunately, comes safety problems that lead to worksite accidents and injuries. A team of building inspectors has been conducting surprise inspections of construction worksites around New York City, and the results have been both alarming and encouraging. Read on for details about the results of the inspections, and contact a Manhattan injured worker attorney if you've been hurt on the job in New York's construction industry.
Construction injuries and fatalities continue to be a problem in New York
Construction injuries have been on the rise over the last few years in New York City. The number of injuries rose a full 61 percent between 2015 and 2018, soaring to 761 in this city alone. Construction fatalities have remained stagnant at around 12 a year.
In response to these numbers, building inspectors have spent the last year conducting surprise, proactive inspections intended both to identify safety violations and to encourage worksite managers and construction companies to conduct their own impromptu safety evaluations in order to avoid fines.
Over 11,000 safety violations identified
A team of building inspectors, ranging from 38 to 53 members, has completed 20,166 surprise inspections of 10,256 city construction sites. Those numbers represent around 25 percent of all active sites during the covered period. The inspections are ongoing, and the inspectors are looking out for compliance with existing safety regulations, correct scaffold safety measures, appropriate crane installation and use, and compliant systems for fall protection.
The team has issued at least 11,400 violations, the majority of which were issued in 2019 after the full, dedicated team was in full operation. During visits to major construction sites, meaning new construction or renovation projects of buildings with four or more stories, inspectors issued over 2,500 stop-work orders as a result of safety supervision violations and identified incidents of dangerous working conditions.
The program has resulted in $15 million in fines paid to the City. However, the program does appear to be working, as there has been a noticeable decrease in the number of jobsite injuries since the inspections began. In the first nine months of 2019, the number of construction accidents decreased by a full 26 percent as compared to the same period in 2018.
If you've been hurt on the job in New York and need dedicated and effective representation of your claims, contact the Manhattan construction site injury lawyer Leandros A. Vrionedes for a free consultation on your case at 212-889-9362.