Summary Judgment Granted in Favor of Cut-Off Driver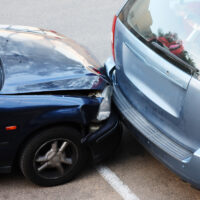 When another car cuts you off abruptly in traffic, it's usually just an irritation; after a few sharp words, and a few deep breaths, you move on with your day. However, sometimes a driver abruptly cutting off another car can imperil the safety of that driver, their passengers, or other drivers on the road. One car service company and its driver were recently found liable on a motion for summary judgment as a matter of law after injuring both their paying passenger and another driver by turning right from the left lane, across two other lanes of traffic.
The case in question is titled Daniels v. Masada III Car & Limo Service Corp. The plaintiff initiating the lawsuit, Raymond Daniels, was a passenger in a car traveling on Ditmars Boulevard in the far left lane, approaching an intersection with Astoria Boulevard. The car was owned by Masada III and driven by Masada III employee Aleksandr Fettser. Wanda Phillipson-Price was also driving in the same portion of Ditmars Boulevard that morning, traveling in the center lane. Price testified in a deposition that she had seen the car driven by Fettser behind and to the left of her at some point prior to the accident, but that immediately before impact, Price saw the car veer from the left lane into Price's lane in order to make a right-hand turn at the intersection, an account supported by deposition testimony from Daniels. Having had no time to react, Price was unable to avoid hitting the car driven by Fettser. Price filed a motion for summary judgment as a matter of law against Masada and Fettser, on the basis that Fettser's actions violated New York Vehicle and Traffic Laws barring cars from leaving their lane of traffic when it was unsafe to do so. Essentially, such a motion requested that the court rule that the defendant is responsible for the plaintiff's injuries based on the defendant's clear and indefensible violation of law. The court agreed with Price and granted her motion.
This case serves as an illustration of why it's important to find an experienced attorney who has spent years litigating personal injury cases to represent you in a car accident claim. After you're hurt in an accident, you're often stuck deciding between receiving a very modest settlement from an insurance company soon after an accident or pursuing a lawsuit that holds the potential to provide you with more complete compensation, but which can take much longer to resolve. A smart attorney will attempt to resolve the issue of who is liable for the accident through a motion for summary judgment on behalf of you, the injured plaintiff. Summary judgment motions are an expedited way to have a court declare who bears the responsibility for an accident when there is a lack of evidence to support a defendant's claims, in order to avoid a much longer trial on the question of who is liable. Such motions make trials shorter, with compensation arriving sooner.
If you are in need of seasoned, trial-ready legal assistance for a New York car accident claim, contact personal injury lawyer Leandros A. Vrionedes for a free consultation on your claims, at Queens 718-777-5895, or Manhattan 212-889-9362.