Study Reveals Increase in Crash Risk from Phone Use while Driving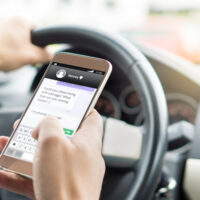 As the rates of fatal accidents on US roads continue to climb, many experts assert that the culprit is the ubiquitous use of mobile phones by drivers. A recently-released study sought to uncover just how much drivers increased their risk of a crash by either talking or texting while driving by studying video footage of drivers from inside their vehicles. Learn about the results of this study below, and contact a seasoned New York personal injury lawyer if you've been injured in a crash with a distracted driver.
Researchers look at video footage to learn when drivers were at greater risk of a crash
The recent report was released by the AAA Foundation for Traffic Safety. Researchers based their conclusions on studying video footage taken from inside over-3,000 participating drivers' vehicles, comparing their phone use in the moments before a crash with their phone use at other times. Researchers calculated increased crash risks associated with texting or emailing, having a phone conversation while holding their phone, or using a hands-free device to speak on the phone.
Crash risk rises by up to eight times for drivers using a phone
The researchers found that drivers who engaged with their phone both manually and visually, such as by texting, emailing, or browsing the internet or Instagram, had an up-to-eight-times higher risk of being involved in a crash as they did when focused on the road ahead. Drivers who had phone conversations increased their risk of being in an accident by up to four times, and the study found no significant difference between drivers who used hands-free devices and those who didn't.
"Deep down, I think everybody appreciates just how dangerous it can be to text and drive or talk and drive," explained AAA spokesperson Skyler McKinley. "That so many drivers regularly engage in these deadly behaviors is evidence of a 'It could never happen to me' mindset. Today's report should make one thing clear: Motorists are putting themselves, other road users, pedestrians, and property at significant risk every time they pick up the phone while driving."
If you've been injured in a crash with a distracted driver in New York, find out whether you're eligible to file a personal injury lawsuit based on your injuries by contacting the knowledgeable, effective, and seasoned Manhattan personal injury lawyer Leandros A. Vrionedes for a free consultation at 212-889-9362, or in Queens at 718-777-5895.