Store Not Responsible for Sidewalk Fall Which Occurred on Neighboring Property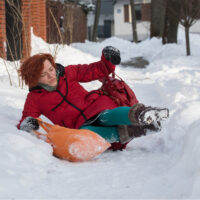 Determining liability for a hazardous condition that causes injuries can be complex. Sometimes, multiple parties may be responsible for a dangerous condition, requiring a skilled attorney to sue all responsible parties to ensure that the victim is fully compensated. Where it appears that multiple companies or individuals may have contributed to a dangerous condition, those parties often attempt to pass off responsibility for a victim's injuries to the others, leaving a group of defendants pointing the finger at one another when someone gets hurt. In a recent decision from the New York Supreme Court, two defendants attempted to claim the other was the truly negligent party, but the court reached a simple conclusion on property owner liability for a slip-and-fall.
The case in question was titled Bonifacio v. C-Town, Inc. While walking to work, Ramona Bonifacio would pass by a New York City Housing Authority ("NYCHA") building which neighbored a C-Town Supermarket ("C-Town"). A gate, owned by C-Town, opened out onto NYCHA's property, trapping ice and snow behind it, which neither property owner would regularly remove. One morning, Bonifacio slipped and fell on ice located on NYCHA's property, which was melting from behind the gate owned by C-Town.
Bonifacio brought a lawsuit against both C-Town and NYCHA for her resulting injuries, claiming both parties' negligence contributed to the dangerous condition. Both defendants argued that they were not responsible for injuries caused by the snow and ice. NYCHA janitorial employees testified that they were instructed not to touch non-NYCHA property while removing snow and ice, and that the gate didn't interfere with removing snow and ice from NYCHA's portion of the sidewalk. Since the gate was not NYCHA property, even though the sidewalk in front of it was, they were not concerned about accumulation of snow and ice behind it, so they didn't ask whether they could move it to clean out accumulated snow behind it. For their part, C-Town argued that it did not receive complaints about snow or ice accumulating behind the gate, nor was it asked to close the gate so that any accumulating snow could be removed. C-Town sought to dismiss the claim against it, arguing that the store could not be held responsible for injuries received on property it did not own, for a dangerous condition it didn't create and didn't know existed. NYCHA argued that C-Town made a "special use" of the section of NYCHA property located behind the gate, which would have meant that C-Town had complete control over that section of land and was obligated to remove any snow on it.
The court explained that, under New York law, a property owner is liable for injuries from a slip and fall only when an owner created, or became aware of, a dangerous condition that would cause an injury–i.e., the owner spilled a slippery liquid on a store's floor, or saw ice on its portion of sidewalk but failed to remove it. If a property owner can show that it didn't create such a hazard, didn't know it existed, or didn't have an opportunity to fix the dangerous condition before an accident occurred, then that property owner won't be liable for resulting injuries. The court went on to note that, under New York law, it doesn't matter that two different owners could have removed a hazard. All that matters is whose property the dangerous condition and slip-and-fall victim were on when the fall happened. The court found that it wasn't disputed that Bonifacio was on NYCHA's property when she fell, and that NYCHA had a duty to keep the sidewalk safe and well-maintained. The court rejected NYCHA's argument that C-Town was obligated to keep the section of sidewalk behind its gate free of snow and ice due to the presence of its gate. C-Town had not prevented NYCHA from moving the gate, did not have exclusive control over that portion of sidewalk, and didn't contribute to creating a hazardous condition on NYCHA's property. C-Town succeeded in having Bonifacio's claims against it dismissed, so that Bonifacio's lawsuit will go forward as being against NYCHA exclusively.
If you have been injured in a slip-and-fall on a New York City sidewalk or business premises, ensure you're fully compensated for your injuries. Contact experienced personal injury attorney Leandros Vrionedes for a consultation on your possible lawsuit, at 212-889-9362.