Spate of Bus Crashes Around the Globe Kill Many and Injure Many More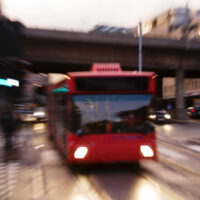 Gospic, Croatia, June 23 – Perhaps the bus driver fell asleep in the early morning hours last Sunday, as eyewitnesses noticed the bus "swaying" moments before it crashed through metal barriers dividing the highway and overturned in the opposite lane. The bus was carrying a group of Czech tourists, of whom at least eight were killed and 44 injured.
Sheridan, Oregon, June 24 – The driver of a pickup truck which had drifted onto the shoulder lost control of his vehicle when trying to bring it back on the road. The pickup collided with a school bus owned by a church carrying nine children to church camp. The bus passengers were not injured, but the driver of the pickup truck lost his life in the crash.
Guerrero, Mexico, June 24 – A bus carrying 48 passengers back from a political rally flipped over and slid into a ravine, killing 25 onboard and injuring 23 others.
Pretoria, South Africa, June 25 – A bus plunged off a bridge, killing 19 and injuring over 50 others. At least one witness described the bus as speeding at the time, and criminal charges are being considered.
Lucknow, India, June 25 – At least 14 people were killed and another 24 injured when a speeding bus crashed into a tree. The bus was carrying about 60 people returning from a religious ceremony.
Harlem, New York, June 26 – Details are still coming in about an MTA bus that was struck at a bus stop by a delivery truck that wound up sandwiched between the bus and a gas tanker at Fifth Avenue and East 125th Street. No fatalities have been reported, although there are at this time 31 reported injuries, with at least two of them being considered serious injuries. With a tanker truck full of gasoline involved in the collision, it is fortunate that the accident was not much worse than it was.
The duty of common carriers to their passengers differs depending on the jurisdiction. Here in New York, bus drivers owe a duty of reasonable care to their passengers, the same as the duty owed to other vehicles on the road or pedestrians in the street. Regulations developed by the Federal Motor Carrier Safety Administration cover buses, trucks and other commercial vehicles, with requirements for the hours of service for drivers as well as vehicle inspection and maintenance. Bus accidents can be quite complicated to sort out, often involving multiple vehicles and catastrophic injuries or wrongful death. If you or a loved one has been injured in a New York City bus crash or other accident, contact personal injury attorney Leandros A. Vrionedes, P.C. for assistance.