Sidewalk Sheds and Scaffolds – A Fixture on New York City Streets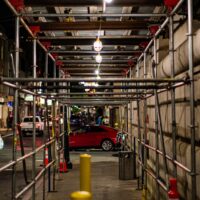 Sidewalk sheds are temporary structures built to protect pedestrians passing by work areas. New York City law requires property owners to erect these sheds whenever constructing a building over 40 feet high, demolishing a building that is over 25 feet high, or whenever some danger requires a shed to be installed to protect the public. As soon as the construction, demolition or repair work is completed, sidewalk sheds must be immediately removed.
Instead of being used for temporary construction or repairs and then immediately removed, however, sidewalk sheds and scaffolds are finding a new lease on life as seemingly permanent structures put in to protect pedestrians from crumbling building facades, despite the fact that no repair work is actively going on to fix the problem. A recent New York Times article reported that somewhere around 1,400 buildings in the city currently utilize sidewalk sheds to protect pedestrians from dangerously unsafe buildings rife with broken terracotta or corroded masonry liable to fall to the ground, potentially striking, hurting or killing people on the sidewalk below.
Scaffolds for years, while buildings continue to crumble
Apparently, sidewalk sheds and scaffolds are being kept in place for years as a stop-gap measure, but the urgently needed building repairs are never conducted. As the Times report pointed out, one building owner was warned of a crumbling façade and corner separation nineteen years ago. Now, 19 years, 19 violations and $49,000 in fines later, the building has nothing to show for it except a scaffold stretching alongside the building for 150 feet to protect pedestrians from being struck by falling chunks of building façade. That scaffold is entering its ninth year of service protecting the public from a building in desperate need of repair, and it doesn't even hold the record. One sidewalk shed in Upper Manhattan has been in place for 14 years.
Crumbling buildings are a real and serious threat to sidewalk pedestrians
Broken terracotta and other falling debris have been responsible for causing numerous injuries and deaths in recent years. In 2015, a two-year-old girl was killed from debris falling from the Esplanade Manhattan. In 2018, an engineer inspecting a building in Soho kicked a loose metal stair tread on a fire escape. That tread fell and struck two people on the sidewalk below, killing one and leaving the other in serious condition. Last April, a woman was killed by a piece falling from a building where the owner had been ordered to erect a sidewalk shed eight months prior but failed to do so. And just last December, a woman was killed by falling terracotta near Times Square.
It seems that thousands of building owners are either not inspecting their facades as required by law or are not filing the results of their inspections with the Department of Buildings. The DOB can fine a building owner $1,000 a year for failure to inspect and $1,000 a month for failing to make needed repairs. Yet fines such as these may not be much of an incentive to a landlord who finds it less costly to pay the fines than make the repairs. The Times reported that $31 million in fines have been assessed over the past ten years, but the problems and tragic deaths persist.
The DOB is starting to step up enforcement and even file criminal charges for noncompliance. Perhaps these moves will wake up recalcitrant building owners and spur them to action. Meanwhile, sidewalk sheds may offer protection from falling debris, but they can also be unwholesome and scary places to walk. Pedestrians risk a trip and fall injury from poorly lit or trashy areas under scaffolds and sheds, as well as exposure to robbery, assault and other criminal activity in these secluded areas.
If you or a loved one has suffered an injury in a New York City sidewalk accident, including a slip and fall, trip and fall, or being struck by debris falling from a crumbling building or construction site, call the New York personal injury attorney Leandros A. Vrionedes, P.C., at 212-889-9362 for a free consultation and help getting medical care and compensation for your injuries.