Research Reveals Additional Vulnerability of Women to Concussions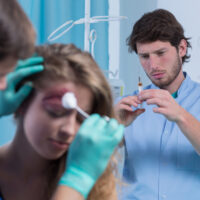 More and more medical researchers have begun looking at the causes and long-term effects of concussions on head injury victims. While concussion research has historically been conducted exclusively on men, a growing body of research shows that head injuries affect women differently than men. In a quest to find out why this may be, one university recently examined whether differences between men and women in brain cell shape and structure might be a cause for these effects. Read on to learn more about differences in how head injuries affect men and women, and contact a New York personal injury lawyer if you've been the victim of a head injury in a car accident, slip and fall, construction accident or other injury accident.
Neurologists have been aware for several years now that women are more susceptible to suffering from concussions than men. Scientists have found that, when women and men suffer the same amount of force in a blow to the head, women are more likely than men to experience a concussion based on that blow. Additionally, women's concussions have been found to be more severe and have longer-lasting effects. However, brain researchers had yet to uncover why men and women respond to these injuries differently.
The recently-released research was conducted by scientists at the Penn Center for Brain Injury and Repair. Researchers examined whether there were physiological differences between brain cells, known as neurons, in men and women that could explain the greater likelihood of women to suffer concussions. The researchers found that the axons—strand-like portions of the neuron used to transmit messages through electrical and chemical impulses between the neurons—were less sturdy in women than in men.
Specifically, women's neuronal axons have fewer microtubules. These tiny tubes are the structures that carry chemicals between neurons. This finding is seen as a plausible explanation for why women suffer concussions more often than men. When the brain suffers a blow, the force of the blow causes the neuronal axons to stretch. While the flexible axons don't typically break, the more-rigid microtubules do. The breakage of microtubules causes the chemicals they carry to spill out into the brain, and this chemical flooding is linked to causing the symptoms of concussions such as nausea and dizziness. This research showing that the fragile microtubules in women's brains are more likely to break than those in men's brains could explain why women are more likely to experience concussions, and to suffer more severe symptoms from those concussions. This research may be useful in proving why women should be entitled to a greater amount in money damages in a personal injury lawsuit involving a concussion, since they will likely require longer-lasting medical treatment and rehabilitation than would a male victim.
If you've been injured in a New York accident, such as a car crash or slip-and-fall, contact the dedicated and effective Manhattan personal injury lawyer Leandros A. Vrionedes at 212-889-9362, or in Queens at 718-777-5895.