Report Reveals Rise in Workplace Deaths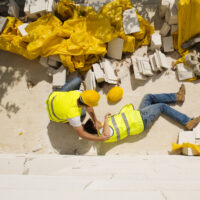 A recent report has revealed that workplace deaths hit a six-year high in 2015. While official data on workplace deaths for 2016 will not be released for some time, a recent rash of deaths on construction sites in New York City make it seem as though the rates of workplace injury & death have not slowed down from 2015.
The Bureau of Labor Statistics (BLS) recently released its annual report on workplace fatalities for 2015, with some disturbing news. The federal agency reports that 4,836 individuals died while on the clock in 2015, making 2015 the year with the highest number of fatalities since 2008. New York had the fourth-highest total number of worker deaths, with 236. Nine hundred thirty-seven workers in the private construction industry were killed in 2015. The single most lethal profession was determined to be heavy truck and tractor-trailer truck driving; 745 such drivers were killed in 2015. The population with the highest fatality rate was that of workers over age 65. Six hundred fifty such workers were killed on the job. This fact makes 2015 one of the deadliest years for seniors at work since such numbers were first tracked beginning in 1992, second only to 2014.
The Secretary of Labor, Thomas E. Perez, reacted to the report by emphasizing employers' burden to keep workers' safety front of mind. "These numbers underscore the urgent need for employers to provide a safe workplace for their employees as the law requires. We have a moral responsibility to make sure that workers who showed up to work today are still alive to punch the clock tomorrow," Perez said.
Earlier in 2016, the Occupational Safety and Health Administration (OSHA) enacted a robust 78% increase to the fines it issues employers for violations of its safety rules. This was the first fine increase since 1990, and it was intended to bring fines in line with the Consumer Price Index, as well as to make it costlier for employers to ignore important safety protections for their workers. Additionally, the New York City Department of Buildings has been more aggressively scrutinizing businesses and prosecuting safety violations, increasing by 23% the number of stop work orders it issued in the first half of 2016. This increase in fines does not seem to have had a substantial impact on contractors operating in New York, however. In the waning weeks of 2016, two more construction workers on sites in and around New York City have died from fall-related injuries. On December 9, a man working on the renovations to the Domino Sugar Factory in Brooklyn was killed when he fell four stories while working on scaffolding. On December 23, a man who had briefly unhooked his safety harness to travel to a different floor on an Upper East Side construction site fell down an elevator shaft to his death. The deceased man worked for Noble Construction Group, which was cited by OSHA in March for failing to provide adequate fall protection for its workers.
If you have been injured on the job in New York, seek help getting the compensation you deserve for your injuries by contacting the seasoned and aggressive Manhattan construction and workplace injury lawyer Leandros A. Vrionedes for a consultation, at 212-889-9362, with additional offices in Queens at 718-777-5895.