Queens Crane Accident Kills 2 Workers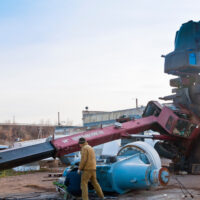 An accident on a job site in the Briarwood neighborhood of Queens has left two workers dead. The reason for the accident is still under investigation, but preliminary results appear to point to equipment failure as the cause.
The accident occurred mid-day on November 22, 2016. A crane was hoisting a 6,500 lb. I-beam, with the crane's operator being guided by a flag man on the ground below who also held the tether line. At one point, the I-beam became snagged on the structure. As the crane operator attempted to free the snagged load, the cable holding the load snapped. The gigantic beam fell four stories down, crushing the cab of the crane, as well as hitting the flag man. Both men were pronounced dead at the scene of the accident.
A tragic crane accident in February that killed a passing pedestrian resulted in changes to New York City's laws regarding crane use. On days where winds are forecast to reach sustained speeds of 20 miles per hour, with gusts of 30 or more miles per hour, crawler cranes must enter "safety mode" and cease operating. On the day of the Queens crane accident, meteorologists reported wind speeds of 20 to 25 miles per hour, with gusts reaching 40 miles per hour. That said, the Department of Buildings reported that, pursuant to their preliminary investigation, wind was not believed to be a cause of this accident. A statement from one construction industry union representative called the incident "preventable." Gary LaBarbera, president of the Building and Construction Trades Council of Greater New York, said that the accident "underscores yet again the need for a greater emphasis on construction safety and proper workforce training by the City and real estate industry."
Construction site managers and property owners owe their workers rigorous safety protections and compliance with local, state, and federal laws to prevent these types of tragic accident. Likewise, equipment rental companies must ensure that the equipment rented to contractors is in good working condition and is safe for workers to use. An independent equipment supplier or manufacturer can be held liable for workers' injuries after a properly-used piece of equipment fails unexpectedly.
If you or someone you love has been seriously or fatally injured on a New York construction site, seek the compensation you and your family may be owed for these injuries by contacting the knowledgeable and effective New York construction accident lawyer Leandros A. Vrionedes for a consultation on your case, in Manhattan at 212-889-9362, and in Queens at 718-777-5895.