Property Owners Face Liability for Failing to Shovel Sidewalks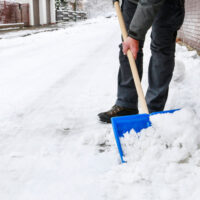 New York has been walloped with record-breaking cold temperatures and snowfall that has blanketed the city. Despite the brutal weather, life goes on. Most of the city's residents must still make their way out into the chilling cold to get to work or school – commutes which often involve traversing treacherously-slippery roads and sidewalks. When sidewalks and staircases aren't adequately cleared of ice and snow, visitors risk being seriously injured in a winter slip-and-fall accident. Read on to learn about the legal duty to clear ice and snow on public sidewalks, and contact a Manhattan premises liability attorney with any questions you may have.
Legal duty to clear sidewalks
While it's no one's idea of fun to shovel snow in single-digit weather, getting injured in a slip-and-fall accident is far more painful than an hour of discomfort spent shoveling. Pedestrians still have a right to safely use public sidewalks, even when snow and ice have recently fallen. If sidewalks aren't cleared within a reasonable amount of time after a storm ends, or if hidden ice or slipping hazards remain, then a person injured after slipping on that sidewalk may have a legal claim for damages against the responsible party.
Each city allocates the responsibility for clearing sidewalks in its own way. In New York City, property owners and landlords have a legal duty to clear sidewalks within a reasonable amount of time after snow stops falling. The city has made it clear about what is considered "reasonable" by publishing the following timetable for when snow must be cleared after snow has stopped falling:
If snowfall stops between 7:00 am and 4:59 pm, sidewalks must be cleared within four hours of the end of the storm.
If snowfall stops between 5:00 pm and 8:59 pm, sidewalks must be cleared within 14 hours of the end of the storm.
If snowfall stops between 9:00 pm and 6:59 am, sidewalks must be cleared by 11:00 am.
Property owners should clear a path that is at least four feet wide along the sidewalk in front of their buildings, and they should ensure that there is a clear path to the crosswalk if their building is on a corner. Snow and ice must also be removed from sidewalks that are next to fire hydrants and bus stops. New York City can and will issue citations ranging from $100 to $350 to owners that fail to follow these rules. New York City residents are encouraged to file complaints about snow and ice that has not been cleared from in front of a commercial or residential property by calling 311 or using the online form on the NYC.gov website.
If you've been injured in a New York City slip-and-fall accident, get help recovering the money you need to cover the cost of your injuries by contacting the skilled and dedicated Manhattan premises liability attorney Leandros A. Vrionedes for a consultation, at 212-889-9362, or in Queens at 718-777-5895.