Plaintiff Obtains Summary Judgment on Issue of Defendant Liability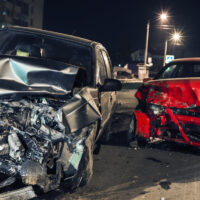 While often a strategy utilized by defendants, smart attorneys for plaintiffs can also make use of summary judgment motions to obtain faster results for their clients when the question of who is responsible for an accident is clear-cut. A recent case decided by an Appellate Division court upheld the granting of summary judgment to the victim in a car accident on the issue of the defendant driver's liability.
In Guerrero v. Milla, the plaintiff and defendants were driving in neighboring lanes on White Plains Road in Bronx County. According to the plaintiff, the defendant driver attempted to merge into the plaintiff's lane "without warning," hitting the plaintiff's car in the process. The plaintiff sued the defendants, including both the driver and the owner of the vehicle who rode as a passenger. The plaintiff moved for summary judgment, arguing that the court should find that there was no question of fact as to whether the driver was responsible for causing the accident, allowing the parties to move on to a determination of the amount of damages owed rather than spending additional time on the question of liability. The defendants were ultimately unable to defeat the plaintiff's argument that the defendant driver had been solely responsible for the accident occurring by failing to look for the plaintiff's car before merging lanes and being in violation of Vehicle and Traffic Law § 1128 (a) (the law against changing lanes when it is not safe to do so).
The defendants attempted to argue that the plaintiff had been speeding at the time of the crash. This could have reduced the defendant's responsibility for the accident, as the driver would not have seen the plaintiff when checking the neighboring lane if she had come out of nowhere. To this end, the defendant passenger stated in a sworn affidavit that she saw a "fast-moving shadow" immediately before the crash. However, the judge discounted this as being "no more than speculation," and insufficient to cast doubt on the conclusion that the defendant driver had been in violation of the law when he merged lanes.
If you or someone you love has been injured in a car accident in New York, ensure that you receive the compensation you need to cover medical expenses, lost wages, and pain and suffering by contacting the knowledgeable and compassionate New York personal injury attorney Leandros A. Vrionedes for a free consultation on your case, in Manhattan at 212-889-9362, or in Queens at 718-777-5895.