Patient Permitted to Continue Pursuing Claims against Negligent Doctor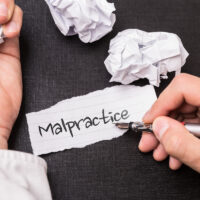 In a case recently coming before the Second Department of the New York Appellate Division, Pichichero v. Falcon, the court rejected the defendant doctor's attempt to dismiss a patient's complaint for being made too late. The Second Department includes Staten Island, Brooklyn and Queens, Nassau and Suffolk counties.
The plaintiff in this case, Glen Pichichero, had been a dermatology patient of defendant Dr. Ronald Falcon since 1990. In 1998, Falcon diagnosed Pichichero's first two incidents of basal cell carcinomas, which are forms of skin cancer. Over the course of the next 11 years, Falcon continued to diagnose various basal cell and squamous cell carcinomas (another iteration of skin cancer) on Pichichero's head, neck, and chest. Each time Falcon diagnosed a growth as skin cancer, he would refer Pichichero to a dermatologist, Dr. Alan Spinowitz, who specialized in a form of surgery to remove such lesions. Spinowitz removed 16 lesions from Pichichero's head and chest between 1998 and 2009.
After a bike accident in 2009, Pichichero received a CT scan that revealed a lesion on his skull. He was diagnosed with a basal cell carcinoma on his scalp which doctors (not Falcon or Spinowitz) discovered had metastasized to his brain. Pichichero filed a claim for medical malpractice against Falcon and Spinowitz in January of 2010. He claimed that the doctors had committed malpractice between February 2003 and November 2009 in failing to diagnose the growing cancer which metastasized to his brain during their course of treatment of his various skin cancers.
The doctors filed a motion to dismiss Pichichero's claims for malpractice committed before July of 2007 as being time-barred, since the statute of limitations had expired for those older claims. The trial court agreed with the defendants, dismissing a large portion of the patient's claim. Pichichero appealed this decision.
The Appellate Division reversed the trial court's ruling, allowing Pichichero's malpractice claims to move forward. The Appellate Division cited the continuous treatment doctrine as the reason for its decision. As a general rule, victims of medical malpractice have only 2 ½ years to bring a claim against the doctor who committed an error that caused the patient harm. Under the continuous treatment doctrine, however, if a patient is still receiving treatment for the condition from which the malpractice claim arises, then that 2 ½-year time limit doesn't start to run until the treatment for the condition ends.
In this case, Pichichero had been visiting Falcon and Spinowitz regularly for over ten years for diagnosis and treatment of skin cancers, and his medical malpractice case centered on an undiagnosed skin cancer which metastasized. The Appellate Division ruled that the trial court was in error for ruling that the statute of limitations began to count down prior to 2009, and reinstated the portion of Pichichero's claim for his treatment prior to July of 2007.
If you have been the victim of medical malpractice in New York, seek experienced, knowledgeable, and effective legal help, and contact the Manhattan law offices of Leandros A. Vrionedes for a consultation.