One Employer, Two Employers, Three Employers, Four… With Multiple Employers, Who's Responsible for Construction Accidents?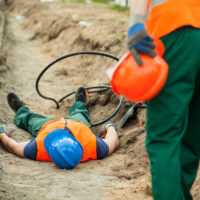 It's the norm for construction sites to have many employers and employees working on the job simultaneously. With all the people, tools, and equipment moving around, there's often confusion about workplace safety regulations and responsibility for construction accidents and injuries. This blog post is aimed at lending some clarity to construction accident liability when there are multiple employers on one jobsite.
OSHA Categories for Multi-Employer Construction Sites
The Occupational Safety and Health Administration (OSHA) regulates workplace safety at multi-employer construction sites by grouping employers into four main categories, each with their own safety requirements for work activities, responsibility for workplace accidents, and standards for preventing safety hazards for workers. These categories include:
Creating Employers
Exposing Employers
Correcting Employers
Controlling Employers
To avoid OSHA safety violations and fines, employers in multi-employer construction sites must identify themselves as a specific type of employer and follow OSHA's regulations pertaining to that category. However, workplace activities can put an employer into more than one category, leading to overlapping safety responsibilities and, in turn, liability in the event of a construction accident.
For example, a general contractor is typically considered a controlling employer because it oversees workers and various activities on the jobsite. But if the general contractor then requires subcontractors or workers to perform duties in a hazardous area, the contractor also may be designated as an exposing employer. If it's later determined that another party caused the hazardous condition in the first place (say the owner of the jobsite failed to cover drums of chemicals), that employer is a creating employer. All these employers, within their designated categories, may be cited for safety violations and held liable for construction worker injuries.
It's important to note that controlling employers have a general duty of reasonable care to prevent and detect safety violations on the construction site. Factors that affect how frequently and closely a controlling employer must look for safety violations to meet the applicable standard of care include the scale of the project, the nature and pace of the work, types of construction hazards, frequency of inspections, and the skill level and professional trade knowledge of subcontractors and workers.
If you or a loved one has been injured in a New York construction accident, please contact Leandros A. Vrionedes, an experienced Manhattan construction injury attorney, for help making the right claims against the right parties, and, ultimately, obtaining maximum compensation for your injuries and damages. In Manhattan, call 212-889-9362, or in Queens, call 718-777-5895. Your first consultation is free, and you owe nothing unless we recover on your behalf.