NYC Bus Video Footage Shows Bus Driver Could Not Avoid Collision with Vehicle Crossing into Its Lane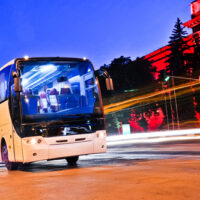 Passengers riding on a New York City bus were injured when the bus collided with another vehicle on East 125th street near the entrance to the Robert F. Kennedy Bridge in Manhattan. The injured plaintiffs brought an action in the Supreme Court, New York County, suing the New York City Transit Authority (NYCTA), the Manhattan and Bronx Surface Transit Operating Authority (MABSTOA), the bus driver and the driver of the other vehicle. In a ruling released in January, the judge in Shaniya B. v. New York City Transit Authority dismissed the case against NYCTA, but otherwise kept it alive against MABSTOA and the drivers.
In support of its motion, NYCTA submitted video footage from the bus' cameras and a printout of data retrieved from the bus engine control module. The video showed the vehicle turning abruptly in front of the bus, crossing into the bus' lane of traffic and then making a right turn in front of the bus, with the collision occurring about two seconds later; the vehicle's right rear door was impacted in the crash, consistent with this scenario. This footage, combined with the engine data which showed the bus was not speeding at the time, was enough to show conclusively as a matter of law that the bus driver did not have any opportunity to avoid the impact. The court dismissed the case against NYCTA based on its motion.
It appears that only some procedural technicalities prevented the case from also being dismissed against MABSTOA and the bus driver. If they can overcome these obstacles, these defendants may be able to get out of the lawsuit with a motion as well. That will leave the negligent driver of the other vehicle potentially liable to all of the injured passengers for her negligence.