News Flash: Drivers Cause Pedestrian Accidents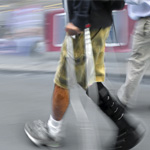 On average, a pedestrian is struck by a vehicle every day in Midtown Manhattan, and has been every day for the past 15 years. So says a report by Transportation Alternatives, a nonprofit advocacy organization dedicated to improving safety and accessibility for bicyclists, pedestrians and public transit users throughout New York City. According to the report Walking in Traffic Violence, more people were killed in traffic accidents than were murdered by guns over the past ten years in NYC.
What is the cause of all these accidents? Although the report identified over 80 contributing factors, pedestrians are not at fault in most cases. The majority of fatal crashes, based on data from the Department of Motor Vehicles (DMV), are caused by drivers who were speeding, running red lights, failing to yield, and committing other traffic violations. Speeding, along with texting while driving and other distracted or inattentive driving tend to top the list.
Don't count on the police to investigate the accident and hold the driver responsible. While the NYPD does have a dedicated Accident Investigation Squad (AIS), Transportation Alternatives reports that the AIS only investigates pedestrian accidents involving a fatality; even accidents involving serious injuries are only given a cursory report, often amounting to little more than filing an MV-104 Report of Motor Vehicle Accident form.
While an MV-104 may not be enough to hold a driver criminally responsible, it can provide the basis for an injured pedestrian to file an insurance claim or seek compensation from the driver based on civil liability. An experienced New York City personal injury attorney can help you maximize your compensation and hold reckless drivers accountable for their actions. If you have been injured in an auto versus pedestrian accident in New York City, contact Leandros A. Vrionedes, P.C. for a free consultation.