Understanding New York Labor Laws 240 and 241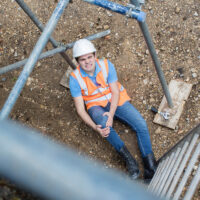 A New York construction worker recently won the liability portion of his lawsuit after being injured at a construction site. New York has several special protections for construction workers that allow employees to recover for injuries that occur on the job, including New York Labor Law § 240. Section 240 requires contractors to install proper safety equipment, specifically scaffolding, ropes, ladders, etc., on elevated surfaces during construction work, and provides for liability against contractors if they fail to do so, or if the equipment is faulty. Section 241(6) also lays out safety requirements that contractors must adhere to at construction sites and provides liability if contractors violate other rules identifying more specific requirements and safety hazards. Learn how New York Labor Laws 240 and 241 are important for construction workers and where you stand with your rights.
Construction worker injured due to lack of proper safety equipment 
In the case of Conlon v Carnegie Hall Society., Inc., plaintiff Derek Conlon was installing sheetrock in a stairwell when he tripped on a stray extension cord and fell down the stairs. He sued in Bronx County under sections 240(1) and 241(6), claiming that the extension cord constituted a "tripping hazard" under 12 NYCRR 23-1.7(e)(1) (which identifies specific safety hazards) and that the stairway should have had an adequate safety device.
Court grants judgment for plaintiff on inadequate safety device claim
The trial court granted summary judgment for the defendant dismissing the § 241(6) claim and denying the plaintiff's motion for summary judgment on the § 240 claim. The parties appealed to the Appellate Division, First Department, which has jurisdiction over New York and Bronx counties. The Appellate Division disagreed with the trial court, finding that "[b]ecause the stairway was an elevated surface on which plaintiff was required to work, and also the sole means of access to his work area, it constituted a safety device within the meaning of" § 240(1). The court found that as a matter of law the plaintiff fell because there was no adequate safety device on the staircase, and that the defendant could not get out of liability either because the extension cord was the cause of the fall or because the stairway was a permanent part of the building. The court thus granted summary judgment in favor of the injured plaintiff.
Court throws out "tripping hazard" claim
The Appellate Division did agree with the trial court that because the extension cord was an "integral part" of the construction, the defendant was not liable under § 241(6) simply because the extension cord was present and presented a potential tripping hazard.
If you have been injured in an accident at a New York construction site and need experienced legal help in seeking damages for your injuries, contact the effective, passionate, and knowledgeable Manhattan personal injury lawyer Leandros A. Vrionedes for a free consultation at 212-889-9362, with additional offices in Queens at 718-777-5895.