New York Scaffold Safety Law Under Attack in Legislature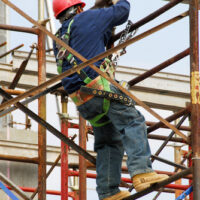 New York's so-called scaffold law protects construction workers from the hazards of working on heights and applies to ladder falls as well as scaffolds or any elevation-related accident. The scaffold law can be found in several sections of the New York Labor Code, such as sections 240, 241, and 241A. These provisions apply to workers engaged in construction, excavation and demolition and include work on and around scaffolds, upper stories, open pits, elevator shafts, stairwells and more. This collection of New York labor laws requires the contractor responsible for the site to provide adequate and appropriate protection for employees working on heights, which may include scaffolding, ladders, hoists, slings, braces, ropes, planking, fences, barriers or other equipment and devices to keep the employee safe from a fall. If an injury occurs, and the contractor did not provide appropriate protection, then the contractor can be held liable without regard to who was at fault in causing the accident.
A new law currently in the works could change that. Assembly Bill A3104 adds a new section 1414 to the civil practice law and rules, establishing that in any personal injury or wrongful death action pursuant to Labor Law Sections 240, 241 (1-5), or 241A, where safety equipment or devices were made available and the employee failed to follow safe work practices or utilize safety equipment or devices, or where the employee engaged in a criminal act or was impaired by drugs or alcohol which was a proximate cause of the injury, then the employee's own comparative negligence can be used to reduce any compensation award in proportion to the percentage of negligence attributed to the worker.
Assembly Bill 3104 was referred to the Judiciary Committee on January 23 and has not yet been reported out. An identical version of the bill in the Senate, S111, was referred to the Senate Judiciary Committee on January 9 and has likewise been languishing there ever since.
An Experienced New York Construction Accident Attorney Can Help You Prove Your Case
The intent of this law is to replace the absolute liability or strict liability standard in New York labor law with the comparative negligence standard generally found in civil tort law. The effect would be to place more of the burden on the injured worker to prove the case and make it harder to recover compensation for serious work-related injuries. New York attorney Leandros Vrionedes handles all types of personal injury and wrongful death actions, including scaffold accidents, ladder falls and other construction accidents. If you have been injured in an elevation-related accident on a construction site in New York City, contact Leandros A. Vrionedes, P.C. for a free consultation with an experienced New York construction accident lawyer.