New York Court Dismisses Medical Malpractice Claim Filed against Hospital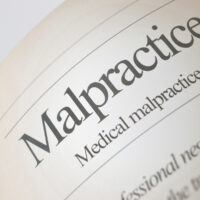 A judge for the Supreme Court of Suffolk County has recently decided that an alleged victim of medical malpractice may not pursue a claim against the hospital where a portion of the errors were committed. Read more about the dropped medical malpractice claim below, and speak with a dedicated New York medical malpractice attorney for more information if you've been the victim of a harmful physician error in New York.
Diabetes leads to foot injuries
The recent decision was issued in the case titled Cusack v. Mancuso. The plaintiff, Cynthia Cusack, was the widow of the alleged malpractice victim, Gerald, who passed away before his claim could be resolved. Gerald was a longtime patient of the defendant, a podiatrist named Dr. Peter Mancuso. Gerald was a diabetes patient who began seeing Mancuso in 2002 for help treating diabetes-related neuropathy in his foot. Mancuso maintained a private podiatry practice and worked as an independent physician but had admitting privileges at Southside Hospital. When Gerald developed a foot ulcer in 2009, Mancuso treated this injury. Mancuso also performed an elective tendon-lengthening surgery on Gerald at Southside Hospital, intended to prevent future ulcers. Mancuso went on to perform a second procedure on Gerald. Gerald claimed the second procedure was intended to fix a mistake Mancuso said he'd made during the first procedure, but Mancuso claimed that Gerald requested the second procedure against Mancuso's recommendation.
Infected ulcers result in amputation
One week later, Gerald returned to Mancuso's office with another ulcer, which Mancuso treated. The following day, Gerald appeared to be suffering from an infection at the site of the ulcer, and Mancuso had Gerald admitted to Southside Hospital for treatment by an infectious disease specialist on the hospital's staff. Gerald continued receiving treatment for this wound, regularly receiving intravenous drugs and checking in with Mancuso on a bi-weekly basis for several months. The wound on Gerald's foot became worse rather than better, eventually resulting in Gerald being admitted to North Shore University Hospital with chills and a fever. Under the recommendation of North Shore's doctors, Gerald had his foot amputated below the knee. After the surgery, Gerald received rehabilitative care at Southside Hospital for a week.
Hospital seeks to dismiss claim based on lack of vicarious liability
Gerald filed a claim against Mancuso and Southside Hospital, seeking damages for medical malpractice, a failure to obtain informed consent prior to his initial surgery, and improper performance of a procedure outside the scope of a podiatrist's authority. Gerald claimed that Mancuso had mishandled his infection and had failed to properly explain the surgical procedures he performed, resulting in Gerald's amputation. Southside filed a motion to dismiss the claim filed against it, arguing that their staff members had performed their jobs adequately when treating Gerald. The hospital also argued that, since Mancuso was an independent physician who was not employed by the hospital, the hospital could not be held legally responsible for any errors Mancuso had made in treating Gerald.
Southside presented testimony from an expert witness, a physician who had reviewed Gerald's medical records from his treatment at Southside Hospital, both by the hospital's staff members and by Mancuso. The expert witness concluded that the hospital staff had followed established best practices in treating Gerald, as had Mancuso. The witness testified that podiatrists regularly perform tendon-lengthening surgeries, so that they are not outside a podiatrist's scope of authority. Additionally, the witness testified that the hospital was not obligated to obtain informed consent from Gerald prior to his surgery, as he was Mancuso's patient, not a patient of Southside Hospital.
The court ruled that the claim against Southside Hospital should be dismissed. First, the court found the expert witness' testimony convincing and found that Southside and Mancuso had performed their work competently. More importantly, the judge ruled that Southside could not be held liable for any errors made by Mancuso. Under the principle of vicarious liability, hospitals can be held financially responsible for errors made by doctors or nurses that they employ. However, a doctor who has an independent practice and only has admitting privileges at a hospital is not considered to be an employee of that hospital. When these admitting doctors commit malpractice, only the doctor can be held liable, not the hospital where the patient was treated. The judge also pointed out that, even where hospital staff carried out erroneous orders issued by an attending physician which resulted in injuries to a patient, the hospital was not legally responsible for these injuries unless the orders clearly went against normal hospital practices or the staff members themselves made mistakes when treating the patient. With no evidence proving that Southside staff members had committed errors in treating Gerald, the claim against Southside Hospital was dismissed.
If you believe that you were the victim of a medical error in New York, such as a surgical error, misdiagnosis, or another medical mistake, find out if you're a good candidate to pursue money damages through a personal injury lawsuit by contacting the skilled and seasoned Manhattan injury attorney Leandros A. Vrionedes for a free consultation at 212-889-9362, or in Queens at 718-777-5895.