New York City Car Crash Yields Battle of Summary Judgment Motions: Plaintiff Wins on Liability but Loses on Serious Injury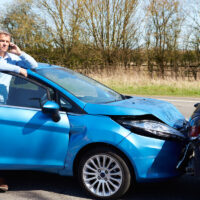 A rear-end collision at West 40th Street and 12th Avenue in Manhattan back in 2009 led to litigation against the following car by the driver of the rear-ended car, who alleged personal injury. Recently the Supreme Court, New York County, decided summary judgment motions submitted by the plaintiff and defendant drivers. Both parties in Garcia v. Feigelson were successful on their motions, but the end result was that the plaintiff's case was dismissed.
Plaintiff's Motion on Liability
When one car rear ends another, there is a presumption that the following car is at fault for causing the accident. Unless the defendant can offer a non-negligent reason for hitting the car from behind, the plaintiff is entitled to summary judgment on the issue of liability, meaning the plaintiff doesn't have to prove the issue at trial. Such was the case here. The defendant did not offer a non-negligent reason for hitting the plaintiff, so the court granted summary judgment to the plaintiff on the issue of liability.
Defendant's Motion on Serious Injury
Under New York's no-fault insurance law, injured plaintiffs are generally prohibited from suing the other driver in a car accident unless they suffered a "serious injury" as defined under New York state law. A defendant can move for summary judgment by showing there was no serious injury, either by showing that there are no objective medical findings of injury, or by showing the injuries to be caused by a pre-existing condition. In this case, the defendant offered evidence that the plaintiff's claims of shoulder, neck, back, knee and hip injuries, along with headaches, nervousness, anxiety, etc., were the result of a different accident which occurred three years prior to this one. The plaintiff tried to offer some evidence to dispute the claim, such as testimony from a doctor who saw him a year after the accident, but the court did not give any weight to the plaintiff's evidence.
Since the defendant showed that he had not caused serious injury to the plaintiff, the court granted his motion and dismissed the plaintiff's case against him, despite the fact that the judge at the same time ruled in favor of the plaintiff on the issue of liability.
The case is still alive, however, as the owner of the car, who was not in it at the time of the accident, has also sued the defendant for property damage. That part of the case will proceed to trial, where the owner of the car will have a chance to litigate his property damage claim.