Multiple Parties May Be Held Legally Responsible for Accident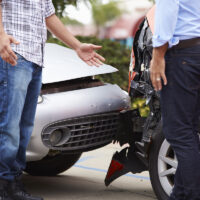 In a recent opinion of the Second Department of the Appellate Division, which covers Queens, Kings, Richmond, Westchester, Nassau, Suffolk, Dutchess, Orange, Rockland and Putnam counties, an accident victim will be allowed to proceed in court pursuing her personal injury damages after the defendant failed to have her claim dismissed. The case centered on whether or not an accident victim who bore some degree of fault for the accident could still be awarded damages against another at-fault party.
The case, titled Hurst v. Belomme, centers on an automobile accident at an intersection in Brooklyn. The plaintiff, Makeda Hurst, was traveling south on Flatbush Avenue, attempting to turn left onto Empire Boulevard. At the time, the defendant, Wenzy Belomme, was traveling north on Flatbush Avenue. Hurst attempted to turn left across the northbound lane of Flatbush when Belomme hit her car. Hurst filed a legal claim for damages against Belomme.
Belomme responded by filing a motion to dismiss Hurst's claims, arguing that her own negligence in turning left was the only proximate cause of the accident. "Proximate cause" is a legal term used to describe an event which not only resulted in the plaintiff's injuries, but which also impose liability for those injuries on the actor. In some instances, an individual or event may have caused an injury, but may not bear liability to the victim as a result. Take the example of a pedestrian who dives in front of an oncoming car as it was traveling by at a fast speed, leaving the driver no opportunity to stop or avoid hitting the pedestrian. While the car may have been the factual cause of the pedestrian's injuries, it is unlikely that the driver would be held liable for those injuries, since they did not commit any error and the accident was unavoidable. Now, let's say the pedestrian was crossing a street against a red light while texting, and the driver was distractedly looking for something in their car when driving through the intersection, failing to notice the pedestrian before hitting them. In this scenario, both the pedestrian and driver are proximate causes of the accident, since they were both breaching duties they had to follow rules of the road when the collision occurred.
New York acknowledges that there can be multiple proximate causes of an accident, and that even where an injured plaintiff is partially responsible for their injuries, they can still seek money damages from the other party that caused their injuries. In the case of Hurst v. Belomme, the court's opinion pointed out that there can be multiple proximate causes of an accident. The court wrote in its opinion, that, even though "a driver with the right-of-way is entitled to anticipate that the other driver will obey the traffic laws requiring him or her to yield, . . . a driver is bound to see what is there to be seen through the proper use of his or her senses and is negligent for failure to do so." The court concluded that while Hurst may have been partially responsible for the crash by attempting to turn left at an inappropriate time, Belomme may have been negligent for failing to see and avoid Hurst's car, which was already in the intersection when he approached. Hurst will be permitted to move forward in her personal injury claim against Belomme in court.
If you have been injured in a car or truck accident in New York, seek legal assistance in recovering on a claim for damages, and contact the determined and knowledgeable New York personal injury lawyer Leandros A. Vrionedes for a consultation on your case, in Manhattan at 212-889-9362 and in Queens at 718-777-5895.