Most Common Construction Accidents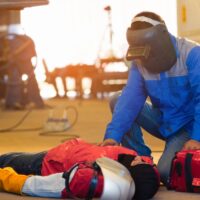 Construction remains one of the most dangerous industries in the country. Of the 4,779 worker fatalities that occurred nationwide in 2018, 1,008, or 21.1 percent, were in construction. That means that one in five workers killed on the job work construction, according to the federal Occupational Safety and Health Administration (OSHA). Thousands more construction workers are injured in accidents across the U.S. and New York every year. According to OSHA, many of these accidents would be preventable if everyone involved followed proper safety protocols. Read on below to learn about the most common accidents that injure construction workers across the country. Call an experienced Manhattan construction accident attorney if you or a loved one has been hurt on a construction worksite in New York City.
The "Fatal Four"
According to OSHA, four types of construction accidents account for 58.6 percent of all construction fatalities, as well as countless more injuries. Dubbed the "fatal four," these accidents include:
● Falls. The single biggest cause of construction worker fatality is falls. This includes slips, trips and falls over loose objects, wet surfaces, etc., as well as falls from ladders, scaffolding, and other elevated areas. Falls represent over a third of construction worker deaths each year.
● Struck by Object. There is a lot of loose equipment and debris around construction sites, as well as a lot of hauling and moving heavy objects. One of the most common causes of fatal accidents is objects falling, flying through the air, or rolling down a slanted surface and striking an unsuspecting worker. Hitting a worker in the torso or limb can cause a fracture or knock them over, while hitting a worker in the face or head can easily turn fatal.
● Electrocutions. Construction involves the use of powerful electrical equipment. Many construction sites have far too many loose wires lying about, equipment that is not properly covered or insulated, or workers who are permitted to utilize dangerous equipment without the proper protective equipment such as rubber gloves and goggles. Electrocutions are extremely dangerous.
● Caught in-between. The final entry of the "fatal four" is workers who get caught in heavy machinery or stuck in between heavy objects and equipment. This includes workers caught or compressed by objects, stuck in collapsing structures, or otherwise caught or crushed by equipment, machinery, or other materials.
Other Common Construction Accidents
In addition to the fatal four, construction workers face a variety of other hazards each day on the job. Some of the more common causes of construction injuries include:
● Fires and explosions
● Being struck by a vehicle
● Forklift, crane, and hoist accidents
● Overexertion and repetitive stress injury
● Exposure to hazardous chemicals
Whatever the nature of your injury, you have the right to compensation if you were hurt on the job. If your loved one was killed in a construction accident, you have the right to survivor's benefits. A seasoned construction accident injury attorney can help.
Help With Construction Accident Injury Claims in New York City
If you or a loved one has been injured on a New York City construction site and you need efficient and effective representation to pursue your claims, contact the Manhattan construction accident lawyer Leandros A. Vrionedes for a free consultation on your case at 212-889-9362.