Midtown Crane Accident Takes Life of NYC Construction Worker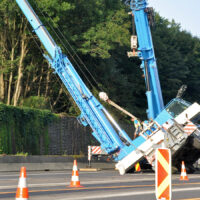 New York City construction worker Trevor Loftus was killed on Friday, April 24th when the crane he was inspecting collapsed suddenly and pinned him against the bed of the truck the crane was being operated from. Loftus was pronounced dead at the scene. A native of Limerick, his death is being greatly mourned by the Irish community in Yonkers and Woodlawn.
The accident occurred at a construction site at 44th Street and 2nd Avenue in Midtown East Manhattan, where a hotel was being built. Loftus had observed that a knuckle boom crane at the site was not functioning properly and moved in for a close inspection when the crane collapsed on top of him. A knuckle boom crane has an articulable joint along the boom and can bend like a finger. Photos from the scene show the boom folded in upon itself, and hydraulic failure is believed to be the cause of the fatal accident.
This type of construction accident – a caught-in/between hazard – is among the "fatal four" of construction accidents categorized by the Occupational Safety and Health Administration (OSHA), after falls, struck by object and electrocution deaths. The construction industry overall is responsible for one in every five worker deaths annually.
Property Owner and Contractor Liability under New York Labor Law
Both the owner of the property and the contractor on the construction project may be liable to the family of the deceased worker in a civil wrongful death lawsuit. New York Labor Law requires owners and contractors to provide a safe worksite and holds them absolutely liable for certain labor law violations. For instance, New York Labor Law section 240(1), the "scaffold law," holds owners and contractors liable for any gravity-related or height-related construction accident. This can include a fall from height or being struck by a falling object. Being injured or killed in a scaffold collapse or crane collapse can also invoke liability under 240(1).
Another section of law which may be implicated is New York Labor Law section 241(6). This section of the law requires that:
All areas in which construction, excavation or demolition work is being performed shall be so constructed, shored, equipped, guarded, arranged, operated and conducted as to provide reasonable and adequate protection and safety to the persons employed therein or lawfully frequenting such places.
In order to hold the owner or contractor liable under 241(6), it is necessary to city to a specific violation of the safety rules and regulations under New York's Industrial Code, which can be found in the New York Codes, Rules and Regulations (NYCRR). Subpart 23-8 of NYCRR contains provisions for certain types of cranes, including mobile cranes, tower cranes and derricks