Mayor's Report Reveals Sharp Rise in New York City Construction Accidents, Injuries and Fatalities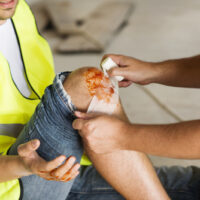 Last month, the City of New York released the Mayor's Management Report for Fiscal Year 2015, an annual report to NYC residents about how well the city is doing across the full range of city services. Every area and city department is included in the report, including the Department of Buildings, the agency responsible for enforcing the City's building code, electrical code, New York State Labor Law, and more. The Buildings Department takes up only six pages of the Mayor's 346-page report, but what those pages show is not good news for construction safety in New York City.
Goal 2c of the Buildings Department, which can be found on page 256 of the report, is to "prevent construction-related fatalities and injuries." A laudable goal, but the Department has a tough row to hoe, as the report's own statistics demonstrate.
Here is a snapshot of statistics from the report, comparing FY 2015 to the previous year:
Construction-related fatalities rose from six to ten, a 66.6% increase
Construction-related accidents rose from 207 to 314, a 51.7% increase
Construction-related injuries rose from 212 to 324, a 52.8% increase
Construction-related incidents rose from 459 to 736, a 60.3% increase
It's not just that FY 2015 was a particularly dangerous year for construction accidents, either. The reports shows a five-year trend upward in all four of the categories above. Rather than making progress toward the Buildings Department goal to reduce construction accidents, quite the opposite is occurring.
Why so many NYC construction accidents?
One possible reason cited for this alarming increase in construction accidents is that there has been more construction activity in general and more new building construction specifically. However, the report shows only a 5.9% increase in initial building permits and an 11.2% increase in permits for new building construction. While it may be logical to expect a rise in the accident rate due to an increase in construction activity, there is still a dramatic increase in accidents compared to the much more modest increase in activity. If property owners and building contractors actually took more care in providing safe worksites, a growth in construction might show a similar rise in the accident rate, but not the astronomical increases we are experiencing.