Man Fatally Injured in Forklift Accident at Queens Facility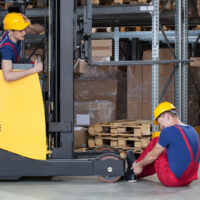 Recently, a young man working at an auto parts facility in Queens received fatal injuries from an accident involving a forklift. Forklift accidents are surprisingly common, but they can often be prevented with careful equipment maintenance and adequate safety training.
Rolling forklift pins man against vehicle
The recent accident occurred on Saturday, February 11. The fatally-injured man was working at the FDNY parts depot located in Long Island City, and had been moving boxes using a forklift. For reasons that are still under investigation, the man appears to have left the forklift in neutral when retrieving something from his van. Unfortunately, the forklift appeared to have been on a partial incline, causing it to roll backward toward the van. The man was crushed between the van and the forklift. He was found by police and was already unconscious and unresponsive by the time emergency medical personnel arrived at the scene. The 28-year-old was transported to Elmhurst Hospital, and it was there that he was pronounced dead.
Forklifts frequently involved in accidents
When used improperly, forklifts can be one of the most dangerous pieces of equipment at a workplace, whether that be a construction site, warehouse, retail establishment, or factory. The Occupational Safety and Health Administration (OSHA) estimates that there are about 855,900 forklifts spread across US facilities. Of those, 11% will be involved in an accident. Most forklift accidents are not fatal, but many result in a serious injury. OSHA estimates that, among the 96,700 forklift accidents that occur every year, 34,900 result in a worker being seriously injured. An estimated 85 on-the-job deaths are caused by a forklift accident every year.
Forklift accidents frequently preventable
About 36% of all fatal forklift accidents stem from the victim being crushed between the forklift and either another surface or another vehicle. More commonly, the forklift crushes the victim when it tips over. This is the case in 42% of all accidents. Tipping accidents are often the result of improper loading of a forklift, a skill which should be carefully trained by employers to avoid such accidents. According to experts, fully 70% of forklift accidents could have been avoided by proper training of workers. Additionally, improper forklift maintenance regarding procedures such as tire inflation, hydraulic inspection, and even horn maintenance, is often found to be a cause of many forklift accidents.
If you've been hurt on the job in a forklift accident in New York, contact the seasoned, knowledgeable, and effective Manhattan construction accident lawyer Leandros A. Vrionedes for a consultation on your case, at 212-889-9362, or in Queens at 718-777-5895.