Man Falls to Death from Queens Construction Site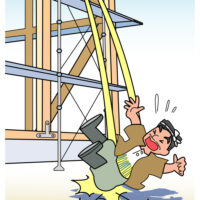 A man doing work on a residential project in Queens fell to his death recently. According to witnesses, the man's death could have been prevented had he been provided with proper safety equipment.
Rooftop work leads to fall
The recent accident occurred on October 19, 2017. A 60-year-old construction worker whose name has not been released was working to install solar panels for the firm Sunrun. The residence was located on 50th Avenue near 94th Street in Corona. The worker was testing whether the anchors designed to hold the solar panels were securely in place. At approximately 11:50 am, the man fell from the roof. Emergency personnel took the man to Elmhurst Hospital, where he was pronounced dead.
Worker lacked equipment that could have been life-saving
A neighbor and retired construction worker witnessed the accident and expressed his opinion that the man was not provided with the appropriate level of safety protection to do the job he was assigned. "He was up there yanking on it, to make sure it was secure, and he came off the roof. He wasn't attached. There was nothing on the roof to tie to," the neighbor noted. "Nothing would have happened to him if he'd been tied on. Nothing. It's such a shame." The witness went on, "There's plenty of ways he could have protected himself there, put the roof brackets with the boards so he would have had something to fall on, they just didn't have the proper safety equipment of anything on this job." Both the Occupational Safety and Health Administration and the New York City Buildings Department have initiated investigations into the incident, and work on the site was suspended after the man's fall.
Falls are second only to vehicular accidents as the leading cause of on-the-job death in the US. New York State has enacted strict legal measures to ensure that, when a worker is injured while doing work at a height, employers are subject to harsh consequences for failing to provide adequate safety protections. Workers hurt by a fall may be entitled to money damages through a lawsuit based on violations of New York Labor Law's so-called "scaffold law." Injured workers should contact a skilled on-the-job injury attorney as soon as possible after an accident to ensure that they explore all options for financial support after an accident at work.
If you've been hurt on the job in New York, find out if you have a right to money damages by contacting the knowledgeable and determined Manhattan personal injury lawyer Leandros A. Vrionedes for a consultation on your case, at 212-889-9362, or in Queens at 718-777-5895.