What Are My Legal Options After Hip Injury in Accident?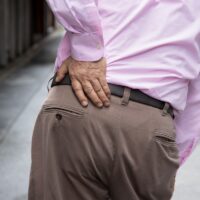 Hip injuries can be painful and debilitating. A hip injury can cause functional limitations and chronic pain for months or years after an accident, whether you were hurt in a car crash, a slip and fall, a stairway collapse, or some other incident. If you suffered a hip injury due to someone else's negligence, you may be entitled to compensation. Your options differ depending upon the nature of your accident. Continue reading to learn about your options for compensation after a hip injury in New York. If you've hurt your hip in an accident caused by someone else in New York City, call a seasoned NYC personal injury attorney for advice and representation.
Car Accidents and Hip Injuries
If you suffered a hip injury in a New York car accident, then your legal options can be limited depending upon the severity of your injury and other factors. New York has a "no-fault" auto insurance scheme where drivers are meant to rely on their own insurance provider should they be injured in an accident. In the typical car crash, rather than file a claim against the other driver and their insurance provider, you'd file a claim with your own insurer.
First-party auto insurance is limited, however. It only covers certain types of damages. For example, no-fault insurance does not cover pain and suffering, which can be a substantial portion of a personal injury claim. To seek additional damages, you'll need to find a way outside of the no-fault limitations.
In order to get outside the no-fault scheme, you'll need to prove either that you suffered a "serious injury," or that you suffered more than $50,000 in economic losses (medical costs and lost wages). New York's insurance law defines specific "serious injury" categories. For the purposes of a hip injury, you'd likely need to demonstrate one of the following:
Broken bone
Permanent or significant limitations on the use of a bodily function or limb
Serious functional limitations caused by the injury that last for at least 90 days in the 180 days following the accident
If your hip injury satisfies one of those categories, you can sue the at-fault driver and collect from their insurance company, likely opening your claim up to significantly higher damages.
Slip & Falls and Other Personal Injuries
Personal injury claims outside of car accidents are not governed by the no-fault rules. If you were injured in a slip and fall accident, for example, or another accident caused by someone else's negligence, then you can go after the party at fault. If you slipped on someone's property because of a hazardous condition, you can file a claim with the owner or operator's liability insurance provider. Alternatively, you can seek to file a lawsuit against the owner or operator.
Assuming they have insurance, the payment would likely come from the insurance provider either way. The insurer or the negligent owner will likely be open to settlement negotiations to avoid the hassle of going to court. Talk to your premises liability attorney about your options and how much your claim may be worth.
Dedicated Advice and Representation for Your New York Personal Injury Claim
If you or someone you care about has been hurt through someone else's negligence in New York City, find out if you're entitled to money damages for your injuries by contacting tried and tested New York personal injury lawyer Leandros A. Vrionedes for a free consultation at 212-889-9362 or 718-777-5895.