Is City Liable for Slip & Fall in "Distressed Building"?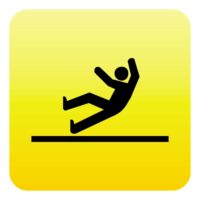 When New York City landlords fail to repair their deteriorating apartment buildings, the City can step in and contract for the repairs at the owner's expense. What if the work is done negligently, and somebody gets hurt? Who is responsible to an injured person who slips and falls in a designated "distressed building"? This question was recently addressed in the case of Robles v. City of New York in the Supreme Court, Kings County.
The plaintiff in this case was a resident of a six-family dwelling at 27 Beaver Street in Brooklyn. She tripped and fell on an interior staircase and claimed the accident was a result of a defect on the front of the step, as well as the fact that the lights in the stairwell were not working properly. She sued the building owner, the City of New York, and the company hired by the City to make repairs to the building.
The building had been designated as a distressed building and was part of the New York City Department of Housing Preservation and Development (HPD) Alternative Enforcement Program (AEP). The AEP program was created to alleviate emergency conditions in the most distressed buildings in the city. It allows HPD to identify the most distressed multiple family dwellings in the city and compel the owners to make effective repairs to alleviate emergency conditions. HPD conducts a building-wide inspection and orders the owner to correct certain conditions. The owner has four months to make the repairs, or HPD hires a contractor to do the job at the owner's expense.
Legal Words to Know: Malfeasance versus Nonfeasance
The plaintiff's argument against the City was that HPD failed to inspect and repair the stairs and lighting while the building was in the AEP program. The question for the court was whether HPD stood in the shoes of the owner and had complete and exclusive control of the property. If so, the City was liable for negligence just like a property owner; if not in complete control, the City could not be held liable for mere "nonfeasance" (failing to act) but only for affirmative negligence (malfeasance), like making repairs negligently.
The court decided that the City did not stand in the shoes of the owner or take over control of the property as part of the AEP program. The purpose of the law is to compel property owners to take responsibility, not to relieve them of it. HPD only contracts the repair work after the owner fails to do so, but this does not relieve the owner of the duty to pay for the repairs and be responsible for them. Therefore, the City is not liable for its nonfeasance in not inspecting or repairing the staircase and lighting.