Innocence of Plaintiff Doesn't Automatically Mean Responsibility of Defendants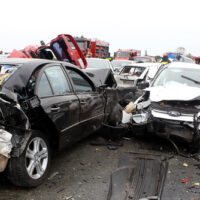 In a recent decision by the New York Appellate Division, the court considered whether or not an innocent plaintiff injured in a multi-vehicle accident was entitled to judgment before trial on the responsibility of the two other drivers.
In the case that came before the Appellate Division, titled Oluwatayo v. Dulinayan, the plaintiff, Victor Oluwatayo, had been injured in a three-car accident, and filed a lawsuit against the other two drivers involved in the accident based on his injuries. During the discovery portion of the case, when each party provides evidence relating to the claims and conducts depositions of opposing parties and witnesses, both defendant drivers were deposed. Gricelda Gutierrez, the driver directly behind Oluwatayo at the time of the accident, testified that her car was at a full stop when it was struck by the car behind her, driven by Mariah Dulinayan, and was thus forced into Oluwatayo's car. Dulinayan testified, however, that Gutierrez's car had already struck Oluwatayo's before the collision between Gutierrez and Dulinayan.
Oluwatayo filed a motion for summary judgment on liability, requesting the court to hold the other drivers negligent as a matter of law, so that a trial could proceed on the issue of damages alone. Oluwatayo argued that, since there was no question that he bore no responsibility for the accident occurring, the court should rule that the defendant drivers were negligent, but the court disagreed. The court explained that there was still a question of which factual account was true, that of Gutierrez or that of Dulinayan. Under Gutierrez's telling of events, she was not negligent in causing the crash between herself and Oluwatayo. Under Dulinayan's version, he was not responsible for causing a crash between Gutierrez and Oluwatayo, as it had already occurred. The court ruled that there was still an issue for a judge or jury to decide regarding whether or not both defendants were negligent, and so that issue would need to move forward to trial. However, the court did rule that Oluwatayo had not exhibited any "culpable conduct," meaning that he had in no way caused the crash. As a result, the case will move forward to trial on whether or not the defendants were negligent in causing the crash, and the court will treat it as a resolved fact that Oluwatayo in no way contributed to the accident. This will expedite the trial and improve the likelihood that Oluwatayo will receive the full amount of his requested damages, since he bore no fault in causing the accident.
If you or someone you love has been injured in a car accident in New York, seek help in getting the damages to which you're entitled for your injuries, and contact the skilled and trial-ready personal injury lawyer Leandros A. Vrionedes for a consultation on your case, in Manhattan at 212-889-9362, and in Queens at 718-777-5895.