How to Win a Trip And Fall Case in New York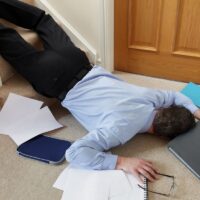 Trip and fall accidents are dangerous. You can suffer any number of injuries, including broken bones, concussion, hip fracture, spinal cord damage, and traumatic brain injury. If you tripped and fell on someone else's property because of a hazard on the premises, you could have a claim for damages. In order to win, however, you need to approach your claims in the strongest way possible.
Below, we offer a few tips on how to build the best trip and fall case. If you've been hurt in a New York trip and fall, slip and fall, or any other type of accident, call a diligent NYC trip and fall attorney at the law office of Leandros A. Vrionedes, P.C.
Identify the Responsible Party
The first item of business when attempting to bring any personal injury claim is to identify the appropriate party to hold responsible for your injuries. If you suffer a trip and fall on someone else's property, the appropriate party to hold liable is usually the owner and/or operator of those premises. For example, if you tripped and fell in a grocery store, you would sue the store owner. If you suffered a trip and fall injury in an apartment building, you'd bring a claim against the building owner. If you were inside someone else's apartment, you might sue the renter, rather than the owner.
If you suffer a trip and fall outside, the analysis can be more complex. Sidewalk trip and fall accidents can be tricky when it comes to apportioning liability. In New York, if you tripped over a cracked sidewalk, uneven pavement, or an otherwise unsafe sidewalk abutting a commercial building, you would likely have a claim against the building owner and/or manager. The same analysis applies to most apartment buildings.
Under certain circumstances, however, the city or state will be responsible. The city or state is responsible for maintaining sidewalks on government property. New York City has also chosen to accept responsibility for sidewalks abutting owner-occupied residences of one-, two-, or three-family homes. There's an exception to this exception as well: If the homeowner took it upon themselves to repair the defect or otherwise modify the sidewalk, and they made the problem worse, then the owner might be the one liable for your sidewalk trip and fall injuries.
Prove the Fall Caused Your Injuries
To bring a personal injury claim, you have to prove not only that you were injured, or that you fell on someone else's property, but that your fall actually caused those injuries. For that reason (and to protect your health generally) it's important to see a doctor as soon as possible after your trip and fall. The doctor will diagnose your injuries, and you can get it on your medical record ASAP that those injuries were caused by the fall you just endured. You can even get a letter from the doctor specifically attributing your injuries to your fall.
If you wait too long to go to the doctor, the defendants might be able to argue that your injuries occurred in some other incident.
Prove the Property Owner Had Notice
Premises liability cases often turn on whether the owner had notice of a dangerous condition–loose carpeting or a wet floor, for example. If you tripped over an object that was left by the owner or an employee or a hazard created by the owner, then the owner had actual or constructive notice of the hazard. Loose wiring, uneven flooring, loose carpeting, poorly-constructed staircases, etc., are all the direct responsibility of the property owner or operator. It's not like a customer spill, which could take time for the property owner to discover.
With sidewalk defects, the analysis can be more complex. How long has the sidewalk crack or other defect been present? Is it reasonable to assume that the owner or other responsible party would have noticed the hazard or had the time to properly remediate or warn about the hazard? Evidence such as witness statements, video surveillance, photographs, and prior incident reports are all vital in proving your claims. Your attorney can work with you to build a timeline and gather the strongest evidence to prove the owner's liability.
Hire the Right Trip and Fall Attorney
Ultimately, proving liability in a trip and fall case requires a thorough understanding of the law, the evidence, and the arguments that defendants, insurance companies, courts, and juries find persuasive. A seasoned premises liability lawyer can help you build the strongest case for maximum recovery.
Seasoned Advice and Representation for Your New York Trip and Fall Case
If you or someone you care about has been seriously hurt in a New York City trip and fall, slip and fall, or other incident on someone else's property, find out if you're entitled to monetary damages for your injuries by contacting the thorough and professional New York premises liability lawyer Leandros A. Vrionedes for a free consultation at 212-889-9362.