Former High School Student Wins $60 Million for Injuries Caused by Chemistry Experiment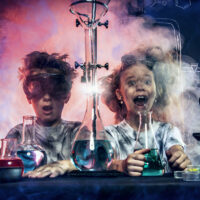 It was recently reported that a young man who suffered devastating injuries during an experiment in his high school chemistry class has been awarded $60 million in damages by a New York jury. Learn more about the accident below, and contact an experienced New York City personal injury lawyer if you or your child has been injured due to negligence at school, at work or on the road.
Background on Chemistry Experiment Suit
Alonzo Yanes was a sophomore at Manhattan's Beacon High School at the time of his January 2014 accident. That day, his chemistry class, taught by a former Beacon teacher named Anna Poole, was conducting an experiment known as the Rainbow. The experiment is intended to show how salts exposed to methanol change color. Only weeks before the class conducted the experiment, a federal agency had published a warning regarding the experiment and the ways it could go wrong. At least two other chemistry classrooms have seen accidents caused by this experiment in the last 15 years, according to the New York times.
When Poole began the experiment in her classroom that day, the reaction caused the formation and explosion of an enormous ball of fire. While most of her students were able to dive under their desks and avoid the flames, Yanes and another student could not react in time to avoid getting badly burned. Yanes testified, "I was hopelessly burning alive, and I couldn't put myself out, and the pain was so unbearable."
Burn Injuries Sustained
The other student suffered first-degree burns, but Yanes was not as lucky. He experienced massive injuries across his body, requiring him to spend two months in a burn unit after the accident as well as an additional three months in the hospital. Yanes needed extensive skin grafts to repair the disfiguring injuries he suffered and is still unable to sweat in some parts of his body as the result of damage done to his sweat glands by the flames. In order to avoid watching strangers recoil at the sight of his scars, Yanes testified at trial that he sometimes takes off his glasses.
Yanes filed a lawsuit against the New York City Department of Education and the former chemistry teacher (Poole now works for the central office of the Department of Education). After a three-week-long trial, Yanes was awarded $29 million for his medical expenses and past pain and suffering, as well as $29 million for future medical expenses and injury-related damages for the next 54 years of his life. An attorney for the Department of Education explained that, while student safety is a priority and the district no longer uses this experiment in any of its classrooms, the city will appeal the award.
If you or someone you love has been injured in a serious accident caused by the careless or negligent behavior of another, contact the dedicated, professional, and effective New York City personal injury lawyer Leandros A. Vrionedes for a free consultation on your case at 212-889-9362.