Gym Member's Sports Injury Claim Doesn't Work Out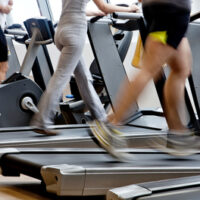 A gym member who claims she was injured during an exercise was not able to maintain her claim of negligence against the gym. The Supreme Court, Queens County, ruled in favor of the gym on its motion for summary judgment on the issue of liability in the case of Cioffi v. New York Sports Clubs.
The plaintiff alleged that she was injured in the defendant's gym while performing a kettlebell exercise under the direction and supervision of her personal trainer. The plaintiff claimed that the injury occurred because the trainer was talking to another gym member instead of paying attention to her while she was doing the exercise. The court, however, ruled in favor of the defendant based on the legal doctrine known as Assumption of Risk.
Assumption of the Risk means just what it sounds like, that a person engaging in certain activities assumes the risk of injury inherent in the activity, and the business sponsoring the activity does not owe a duty to the participant to prevent such an injury. In the case of athletic or recreational activities, it is well-established that assumption of risk negates any duty to protect a participant from commonly known risks inherent in the activity.
In order for the doctrine to apply, the plaintiff must be aware of the potential for injury, based on personal experience and level of skill, unless the danger is perfectly obvious to anyone. In this case, the plaintiff was an experienced gym member who had been working out five days a week for years, including three days a week with a personal trainer. In addition, the court also held that the plaintiff here assumed an obvious risk in attempting the exercise.
This case presented other potential problems for the plaintiff as well. For instance, the plaintiff claimed the exercise was a "dangerous condition," which would have required her to prove that the defendant had notice of the dangerous condition. Then there is the question of the liability waiver in the Membership Agreement. Finally, even if the plaintiff could have proven liability, she may have run into trouble proving her damages. She complained about the injury some time after the actual date of the injury, and no incident report was filed at the time. In addition, she didn't seek treatment until three or four months after the incident. Sometimes injuries are not immediately apparent, however, and people may not seek immediate treatment even if they suspect they may have been hurt.