Federal Court Rules New York Stop-and-Frisk Search Policy Violates Fourth and Fourteenth Amendments to U.S. Constitution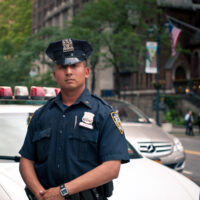 On August 12, federal judge Shira Scheindlin released her opinion in the case of Floyd v. City of New York, holding that the New York Police Department's stop-and-frisk policy is unconstitutional. Along with the 198-page opinion, the judge also filed a separate 39-page Remedies Opinion in which she issued an injunction against the NYPD, ordered the department to make changes to its policy, and appointed a former Manhattan Assistant District Attorney to monitor the City's progress.
Stop-and-Frisk has been constitutional for 45 years
The right of the police to conduct a stop-and-frisk was taken to the U.S. Supreme Court in the 1968 case of Terry V. Ohio. The high court there found that the practice was not unconstitutional so long as the police had reasonable grounds to believe the individual was involved in criminal activity and that the person may be armed and dangerous. In those circumstances, it is okay for the police to stop and question the person, and also conduct a limited search or pat-down of the person's outer clothing to check for weapons for the officer's safety.
The Floyd trial lasted nine weeks and involved an analysis of over 4 million NYPD stops, 80% of which involved blacks or Hispanics. Whether this was due to a "facially neutral policy applied in a discriminatory manner" or "express racial profiling," targeting young black and Hispanic men was an unreasonable search and seizure in violation of the Fourth Amendment and violated the Equal Protection clause of the Fourteenth Amendment. While NYPD's written policy prohibits racial profiling and requires reasonable suspicion for a stop, there was plenty of evidence of an unwritten policy that encourages police officers to focus on "the right people."
Not the End of Stop-and-Frisk
The judge found NYC in violation of the civil rights statute 42 U.S.C. 1983. While she ordered remedies such as policy reform and departmental changes, money damages are also authorized in section 1983 claims. The City plans to appeal the case to the 2nd Circuit Court of Appeals. Meanwhile, as the judge made clear, she did NOT order an end to stop and frisk, just changes to the way they are done, both at the policy level and the street level. Hopefully, these changes will lead to better policing and fewer violations of civil rights in New York City.