FDA Warns against Use of Codeine-Containing Medications for Children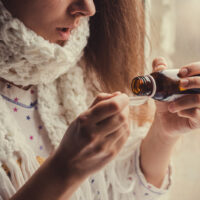 The Food and Drug Administration recently announced that prescription medications for children containing the pain killers codeine or tramadol must now carry a warning that the drugs are unsafe for children. The warning is being required after research has shown that some children experience a fatal slow-down in breathing after taking codeine-containing drugs.
Prescription drugs containing codeine will now need to warn parents that the drugs are not safe for children under 12 years of age. The warning must also advise against allowing obese children or those with breathing problems who are aged between 12 to 18 to use the drugs, as these children can also experience serious or fatal effects from a slowdown in breathing.
The FDA is implementing the warning pursuant to a recommendation made by an independent advisory panel in 2015. The advisory panel strongly recommended that prescription medications carry a warning against use by children. "My concern, were I to be prescribing codeine in children, would be that I would, frankly, kill them," said one member of the panel. Drugs for children containing codeine have already been restricted by state regulators in many other countries, including Canada, Australia, and across Europe.
In addition to concerns expressed by the FDA's independent advisory panel, other physicians have spoken out on the dangers to children posed by codeine. Last year, the American Academy of Pediatrics published a report by its members in the journal Pediatrics that issued strong warnings about use of the drug by children. The report stated that "neither the value of suppressing cough nor the effectiveness of codeine in children with acute illnesses has been shown."
Studies have found that a certain percentage of the population are what's known as "ultra-rapid metabolizers" of codeine and tramadol. These individuals metabolize codeine and tramadol in such a way that they experience a sudden flood of opioids in their bloodstream. Since no test is easily available to show who is or isn't an ultra-rapid metabolizer, experts determined that it was necessary to provide a warning for all users to prevent fatal injuries to vulnerable people.
The president of the National Center for Health Research (NCHR), a consumer advocacy group, found the FDA's warning on providing codeine-based medications for children to be highly belated. "The science is clear, so why did it take almost 18 months since the FDA's public meeting on the exact same issue? FDA needs to do more to warn patients about the known risks of medical products as soon as data are available," said NCHR president Diana Zuckerman. "A change in the label is important, but unfortunately many doctors and patients don't read these labels. We need a public education campaign to warn parents and nursing women about these risks."
Douglas Throckmorton, the deputy director of regulatory programs at the FDA, himself noted that the FDA has been considering issuing this warning for years, but did not make it clear why parents were not previously advised of the risks their children faced when taking these drugs. The families of children injured by codeine-containing medications may have a claim against drug manufacturers for the injuries created by their products.
If you or someone you love has been hurt by a dangerous drug in New York, find out if you have a claim for damages by contacting the dedicated and seasoned Manhattan medical malpractice and dangerous drug lawyer Leandros A. Vrionedes for a consultation at 212-889-9362, or in Queens at 718-777-5895.