Father's Suit for Wrongful Death of Son in Nightclub Fight Survives Defendant's Motion to Dismiss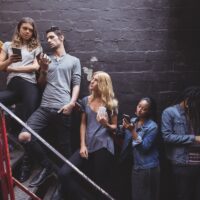 On January 30,2009, Sammy DeJesus was denied entrance to Goldfingers, a "gentleman's club" in Queens, because the bouncer determined that he was already in an intoxicated condition. The bouncer at the strip club recruited a patron at the club to help escort Mr. DeJesus outside, but a fight broke out between Mr. DeJesus and the patron. In the altercation, Mr. DeJesus fell down a flight of stairs outside the club. He died three days later from injuries sustained in the fall.
The father of the deceased, Santos DeJesus, brought a personal injury and wrongful death lawsuit against the club as well as the patron and the landlord of the property, alleging: negligence; inadequate security; and negligent hiring, retention and supervision. The landlord won a summary judgment dismissing it from the suit, and the patron did not answer the summons or appear in the case and therefore had a default judgment entered against him. This left the nightclub owners as the sole defendants left to litigate the case.
Goldfingers then filed a motion for summary judgment to dismiss them from the lawsuit. The club's owners argued that they had no duty to protect the deceased from the sudden and unforeseen act of a patron at the club. They also argued that security at the club was reasonable, and that they should not be held vicariously liable for the actions of the bouncer, who was an independent contractor rather than an employee.
The Civil Court of the City of New York, Queens County, denied the defendant's motion, and last November the Appellate Division of the New York Supreme Court affirmed the denial in DeJesus v. Goldfingers, so the case may proceed toward trial.
Defendants Couldn't Prove Their Case
On a motion for summary judgment, the party seeking the motion must present sufficient evidence to show that there are no material issues of fact that need to be decided in court, allowing the judge to rule in their favor as a matter of law. This is not an easy hurdle to cross for either a plaintiff or a defendant seeking summary judgment, since the judge interprets the alleged facts in the light most favorable to the nonmoving party.
Here, the judge ruled that there was insufficient evidence that the bouncer was an independent contractor, which was based only on a conclusory statement by the club's manager. Also, the case raised enough questions about the sufficiency of the security staff to deny the motion and keep the case alive for trial.