Fatal Construction Accidents Doubled In NYC Amid Building Surge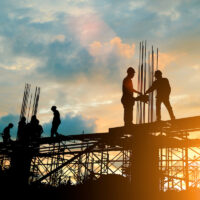 On July 16, a live wire electrocuted a construction worker in a West Village residential building on Grove St. during a construction project. Four days earlier, a piece of scaffolding fell off the International House in Morningside Heights, hitting and killing another worker. The workers were the seventh and eighth people to die in construction accidents in the first seven months of 2018, according to city and federal statistics, double the number for the same time period in 2017 and equal to the total annual construction deaths in 2014. The latest death is part of an alarming surge in construction worker death rates and accidents  in New York City this year, as the number of building projects soars.
Construction worker death rates jump in 2018
According to the NYC Buildings Department (DOB) and as reported by the New York Post, through July of this year, 469 people were injured in 457 accidents on job sites. This represents a 17 percent increase in construction injuries over 2017. At least 50 workers were injured by falling debris alone this year.
There were at least 12 accidents this year in just one two-block radius, between the 400 and 500 blocks of West 33rd Street where a large Hudson Yards construction project is underway.
Numbers from the federal Bureau of Labor Statistics show construction is the most dangerous job in New York City: Almost 40 percent of work-related deaths in New York City in 2016 were construction workers. As reported by the New York Times, many of those killed have been immigrants, who are often undocumented and unable to blow the whistle on unsafe working conditions.
Amid construction boom, NYC officials seek to remedy rising injury rates
NYC Mayor Bill de Blasio has encouraged large-scale development projects to improve the city but recognizes the growing danger of construction projects. The mayor has taken steps to address the issue, including approving a requirement last October for workers to undergo at least 40 hours of safety training. The measure was passed over concerns that it would favor unions at the expense of day workers and independent contractors, as union members are exempt from the new training requirements while many day workers often lack the funds or language skills to get the required training.
Mayor de Blasio also moved to quadruple penalties for safety failures in 2016 and signed an ordinance requiring the DOB to publish construction injury and death statistics online starting 2017. In response, DOB officials brought on 140 new inspectors and did increase penalties.
Get in Touch with a Construction Injury Lawyer
If you or a loved one has been injured in a New York construction accident, please contact Leandros A. Vrionedes, an experienced Manhattan construction injury attorney, for help making the right claims against the right parties, and, ultimately, obtaining maximum compensation for your injuries and damages. In Manhattan, call 212-889-9362, or in Queens, call 718-777-5895. Your consultation is free, and you owe nothing unless we recover on your behalf.