Elevator Shaft Fall Kills Manhattan Construction Worker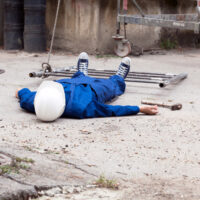 A recent accident has taken the life of a worker on a Manhattan construction site. The death comes as New York City Council members debate a bill that would require safety training and participation in an apprentice program for the city's construction workers.
Fall occurs under unclear circumstances
The recent accident occurred at a site on Fifth Avenue at the corner of West 30th Street. Workers are constructing a 52-story high-rise tower that will house over 100 condominiums, as well as a large amount of retail space. Emergency personnel were called to the site when a 22-year-old worker from Yonkers was discovered to have fallen down an elevator shaft. The man was transported to the hospital, where he was pronounced dead.
Year after year, falls are the leading cause of death on construction sites across the US. According to OSHA regulations, open elevator shafts on active job sites should be protected by guard rails or protective netting to prevent worker falls of this nature. At the time of the young man's death, the circumstances surrounding the accident weren't clear, including whether the elevator shaft was protected according to federal and local-level legal requirements.
Accident occurs as city council debates mandating worker training
The Manhattan elevator fall occurred as the New York City Council continued to debate a controversial bill on construction worker safety. The bill is a response to the mounting toll of construction worker deaths on New York building projects during the city's recent building boom, with the rate of job site deaths outpacing the rate of construction. As it stands currently, the bill before the City Council would make it mandatory that all construction workers obtain 59 hours of safety training in order to work on a New York construction site. If inspectors found that even one worker on a job site had not received the requisite training, the job site could be shut down. Council members have debated adding a measure to the bill that would exempt union workers from this training requirement, under the argument that union workers have already received this training as part of their union membership. The bill is not expected to receive a vote until after the New York City primary.
If you or someone you love has been injured on a New York City construction site, get the legal help you need seeking compensation for your injuries by contacting the aggressive and dedicated Manhattan construction accident lawyer Leandros A. Vrionedes for a consultation on your case, at 212-889-9362, with additional offices in Queens at 718-777-5895.