East Harlem Manhole Explosion Injures Two Workers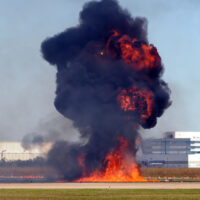 A recent accident involving a manhole injured two individuals on the job for Consolidated Edison. Manhole accidents are surprisingly common events and can cause major injuries to their victims. Read on to learn more about manhole accidents and the injuries they can cause, and contact a dedicated Manhattan personal injury lawyer if you've been injured in a manhole accident.
Recent accident causes injuries to two men
The most recent manhole-related incident occurred in East Harlem at the intersection of Second Avenue and East 110th Street on Saturday, July 29, 2017. Two men, contactors for utility company Con Edison, were on a project to relocate telephone cables and were working underground. At around 2:30 pm, witnesses reported hearing a blast that shook the street. When emergency personnel arrived, they extracted the two workers. Both were taken to Harlem Hospital. Both men had facial burns, and one man's injuries were described as minor, while the other's were serious.
Manhole accidents see uptick in hot summer months
You might not realize it, but manhole accidents are a shockingly-common phenomenon in New York City. While manhole accidents can and do occur anywhere, they happen more often in New York City than anywhere else. According to one 2014 report written by Con Edison, there were 3,369 so-called "manhole events" reported across New York City in 2014. Thirty-two of these incidents were explosions where the cover was dislodged and caused property damage and/or injuries. In that time, Los Angeles experienced five manhole events, three of which were explosions.
Summer is a particularly dangerous time for manhole explosions. During the summer, there is a greater demand on the electricity grid from fan and air conditioner use. This causes the underground cables to become hot from the additional current. Should there be an explosion along the 94,000 miles of cable that Con Edison has run throughout the city, the pressure can toss a manhole cover into the sky. They might not look large, but the average manhole cover weighs between 70 and 300 lbs, and it can do very serious damage by landing on a car, rocketing through a window, or striking a pedestrian. Utility companies and city governments have a duty to take all possible precautions to prevent these serious accidents from harming New York City residents.
If you've been injured in a manhole accident in New York, contact the dedicated, effective, and trial-ready Manhattan personal injury lawyer Leandros A. Vrionedes for a consultation, at 212-889-9362, or in Queens at 718-777-5895.