Doctor Faces Liability after Failing to Explore All Possibilities for Saving Accident Victim's Leg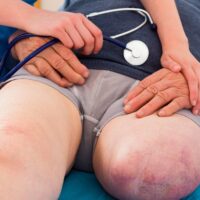 When more than one person is at fault for a victim's injuries, lawsuits for money damages based on those injuries can quickly become complex. If one or more of the responsible parties (known in the legal world as "tortfeasors") either settles the claims against them or is no longer part of the lawsuit for some other reason, the plaintiff may need to be able to prove the extent to which their condition was made worse as the result of only the parties remaining in the lawsuit. Attorneys must make extensive use of technical evidence and expert testimony to prove the source of injuries, and that the negligent or reckless behavior of the defendant in particular was a source of significant harm. The New York Appellate Division recently considered an appeal from a case where a doctor was found guilty of malpractice against a patient who had been injured in a car accident.
The case, titled Marin v. New York City Health & Hosps. Corp., was centered on injuries received by Alfonso Marin, a car accident victim. Marin was taken to the hospital for treatment by Dr. Brian Donaldson after his leg was crushed when he was hit by a car. Marin had his leg amputated by Donaldson and subsequently suffered painful ulcers from his prosthetic, a condition called "shrinking stump," on the leg that had undergone the amputation, and was told that he would eventually be confined to a wheelchair permanently. According to Marin's expert witnesses, Donaldson failed to attempt to save Marin's leg through all available measures, namely by using a Fogarty catheter to try to reestablish circulation in Marin's leg and place him under observation in the hospital while attached to the catheter. Marin's medical experts asserted that there was a 30-40% chance of saving Marin's leg and preventing the voluminous, painful problems Marin had with his leg after the surgery, had Donaldson utilized this technique.
Marin filed a lawsuit against both the driver who injured him and against Donaldson, but the driver settled with Marin out of court. Donaldson was found negligent during a trial for failing to use a Fogarty catheter to try to save Marin's leg. Marin was awarded $2 million in past pain and suffering, $4 million for 30 years of future pain and suffering, nearly $6,500 each year in medical expenses, over $3,300 in medication costs annually, over $12,500 in annual medical equipment expense, and $7,000 in physical therapy costs. The judgment was reduced by the amount Marin received from the negligent driver who settled. Donaldson appealed, claiming that there was no way to determine which of Marin's injuries were attributable to Donaldson, and which to the negligent driver. The Appellate Division disagreed, however. The court found that numerous doctors had testified about the manner in which the leg could have been saved, had Donaldson followed good medical practice when treating Marin. Since the jury had heard a good deal of testimony regarding the ways that Donaldson made Marin's condition worse beyond the initial injuries, the court ruled that the jury was justified in finding Donaldson liable for a substantial portion of the suffering and deterioration Marin suffered.
If you have been injured in an accident in New York or suffered permanent physical damage as a result of a negligent or careless doctor, contact the aggressive and effective Manhattan medical malpractice attorney Leandros A. Vrionedes for a consultation, at 212-889-9362, or in Queens at 718-777-5895.